General news
Car veers off Ofoase-Ayirebi Road into Boti River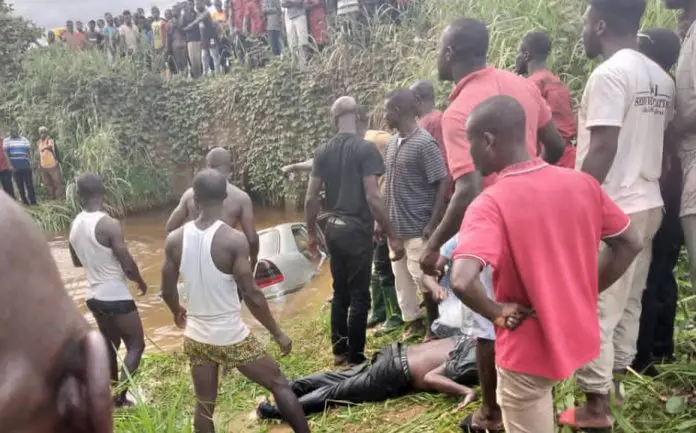 Car veers off Ofoase-Ayirebi Road into Boti River
A driver suspected to be a staff of Ghana Revenue Authority (GRA) at the Birem Central Municipal Assembly has drowned.
The driver was suspected to be heading to Akyem Oda when the bad incident happened. He was driving a Benz car, with registration number GW 9000-W. The motorist is suspected to be a staff of Ghana Revenue Authority at the Birem Central Municipal Assembly, got drowned in the accident.
The scene was an ugly one especially seeing a man perish but there is little to do in saving him. The private car veers off Ofoase-Ayirebi road and dive into the river (Boti river) as onlookers watch with little options in saving his life.
Residents that witnessed the incident, narrated how it happened. According to them, they private vehicle took a sharp turn and lost control and accidentally, veered and plunged into the river.
Many watched-on and called for help as the car gradually drowned with the driver. They claimed to stay away from the river since most of them could not swim and were left with no option than to looked on helplessly.
As at the time help from the nearby residents arrived, it was way too late for him. The rescuers were from Oda Nkwanta that rushed to the scene to rescue him but the harm was already caused.
Reports indicated that the body has been deposited at the morgue specifically, the Oda Government Hospital after been declared dead by the doctors.
The accident as attributed to the bad road in the area and called for it to be fixed with immediate effect to prevent future accidents.
The construction of the Oda-Ofoase-Ayerebi road has been delayed and residents believed could have save this lost soul.
Source: 3news .com
Read on:
Join our discussion forum below by clicking on the link. Drop all comments in the comments section below.
Share with the social media buttons below.