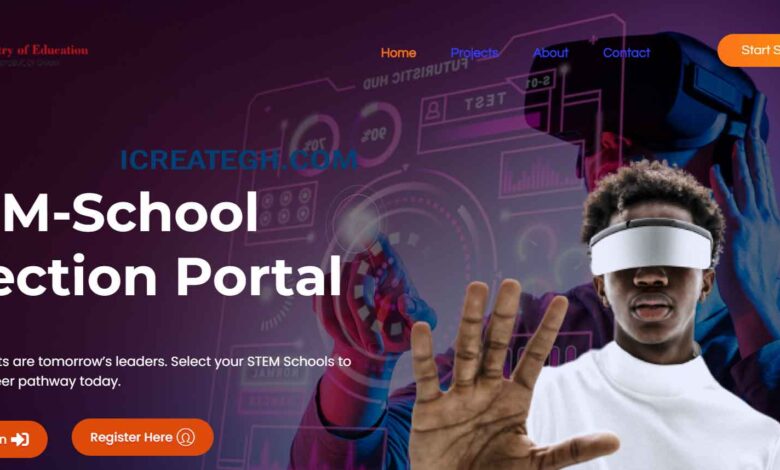 Guide to The Selection of Stem SHS on The 2023 Placement Portal
Technology has come to stay as everyday, there are new inventions. This has called on many countries to pay particular attention to the study of Science, Technology, Engineering and Mathematics (STEM).
Well, as a nation that believes that they have some of the finest brains and need to nurture them, decided to introduce the STEM Schools.
In a letter that confirms the availability of the STEM SHS on the 2023 placement portal signed by Kwasi Kwarteng, Spokesperson for the Ghana Education Service (GES), indicates that Successful BECE graduates from both public and private school, can now log onto their website and make a choice from the available STEM Senior High Schools.
"The Ministry of Education (MoE, GES, TVET Service, FSHS & CSSPS) announces to prospective SHS students, parents/guardians and the public, that the 21st Century Science, Technology, Engineering and Mathematics – STEM SCHOOL PLACEMENT PORTAL has been opened" as stated in the letter.
READ ALSO: NSS Releases Postings for Trained Teachers for The 2022/2023 Service Year
It further states that "The portal gives access to the list of NEW STEM Senior High Schools included in the 2023 School selection and placement process. It also provides information on available STEM programs and their career pathways. It gives further details of existing Senior High Schools that would be offering STEM programs during the 2023 academic year."
The letter again specified the precedence of the current selection over the earlier selection made. As mentioned, "students with an interest in pursuing strictly STEM programs are encouraged to visit WWW.STEM-SSP.COM.GH to select their preferred schools and corresponding programs. It is important to note that choices made using this portal will take precedence over initial selections".
What is STEM Education?
Guide to The Selection of STEM SHS
1. Visit www.stem-ssp.com.gh
2. Click on Register Here (You must first REGISTER before starting the selection process)
provide the following details correctly;
a. First name
b. Last name
c. Enter index number
d. Enter Phone number
e. Select a password
3. Click REGISTER to complete the process.
4. Go back to the front page and Click on START SELECTION.
Log in now with your details and select your preferred STEM SHS
REGISTER HERE
START SELECTION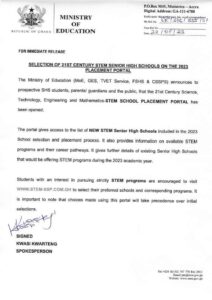 RECOMMENDED
You can join any of our platforms below to be updated anytime we publish new articles.
<<< CLICK HERE TO JOIN OUR WHATSAPP GROUP >>>
<<< CLICK HERE TO JOIN TEACHERS PORTAL GH (GRP2) ON WHATSAPP >>>
<<< CLICK HERE TO JOIN OUR TEACHERS PORTAL GH ON TELEGRAM >>>