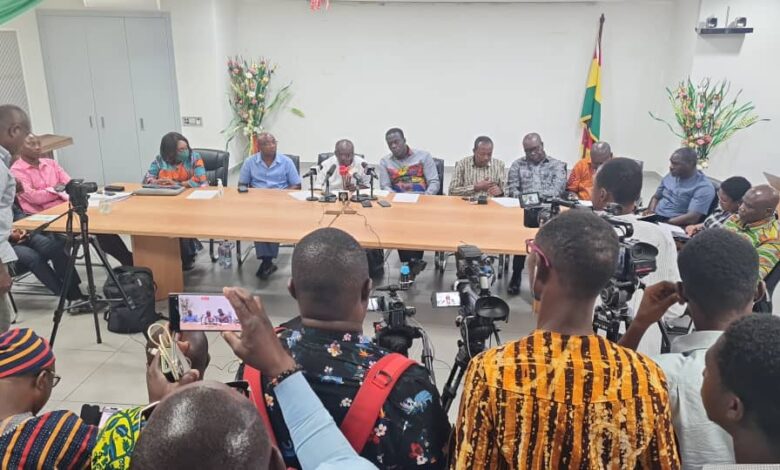 Organized Labour, Government Approved 30% Base Pay.
The Government of Ghana has approved 30% increment in the public sector salary for the 2023 financial year, in a conclusive salary negotiation meeting with Organized Labour on Thursday, January 12, 2023. The Agreement was between The Government of Ghana, represented by the Fair Wages and Salaries Commission (FWSC), Ministry of Employment and Labour Relations (MELR) and Ministry of Finance (MoF), (hereinafter called "The Employer' of the one part And Organized Labour comprising workers' Unions Associations and Institutions within the Public Service of Ghana (hereinafter called 'Labour') of the other part.
Whereas the parties negotiating as the Public Services joint Standing Negotiating Committee (PSJSNC) have concluded negotiations for the 2023 Single Spine Salary Structure Base Pay.
According to the agreement on Base Pay for 2023 statement signed by Hon. Ignatius Baffour Awuah (MP), Minister for Employment and Labour Relations; Dr. Anthony Yaw Baah, Secretary General, TUC; Ing. Benjamin Arthur, Chief Executive, Fair Wages and Salary Commission; and Dr. Isaac Bampoe Addo, Executive Secretary, CLOGSAG, the following terms;
The Terms of Agreement spelled out
Firstly, that the Base Pay on the Single Spine Salary Structure (SSSS) has been increased by 30% across board for the year 2023 at the existing relativity of 1.7 percent.
Secondly, that the effective date for the implementation of the 2023 base pay shall be 1st January, 2023.
This has been the 9th time this 2023 Base Pay negotiation meeting between the Ghana government and Organized Labour has taken place.
Meanwhile, the Cost of Living Allowance (COLA) will no longer be part of workers' salary as the new 30 percent increment is to take effect immediately.
Read the 2023 Base Pay Agreement Below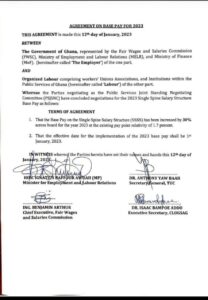 Written By: Kofi Tamakloe
RECOMMENDED
You can join any of our platforms below to be updated anytime we publish new articles.
<<< CLICK HERE TO JOIN OUR WHATSAPP GROUP >>>
<<< CLICK HERE TO JOIN TEACHERS PORTAL GH (GRP2) ON WHATSAPP >>>
<<< CLICK HERE TO JOIN OUR TEACHERS PORTAL GH ON TELEGRAM >>>