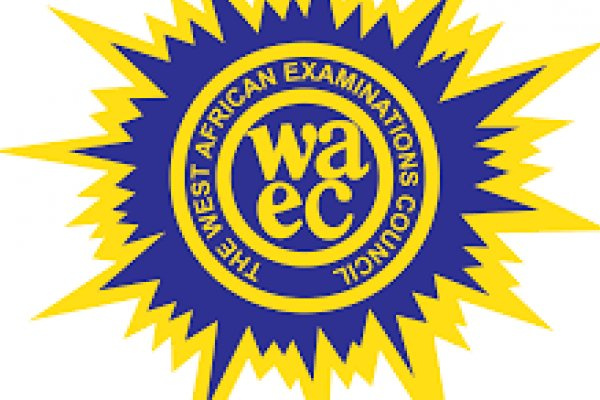 WAEC Receives Reports on Cheating in Ongoing WASSCE in Ghana 2022.
Ghanaian Schools are currently writing their WASSCE alone as the sister countries have already completed couple of months ago. One thing WAEC seems to be worried about is the mechanism developed by some schools and heads of these institutions in cheating.
In a statement released yesterday Friday 2nd September, 2022, signed by the Head of Public Affairs, Mrs Agnes Teye-Cudjoe, it is evident and reports reaching them implies that there is an infringement of WAEC rules and regulations governing the conduct of examination. She mentioned areas such as impersonation, smuggling of mobile phones into examination halls by candidates, restriction of access to school compounds for monitoring purposes and syndicate cheating in schools as some of the means deployed by some schools in violating the rules of the fair conduct of the WASSCE in Ghana.
Also Read; GES Posting of Teachers Returning from Study Leave 2022/2023
Below is the full extract of the press released;
CONDUCT OF THE WEST AFRICAN SENIOR SCHOOL CERTIFICATE EXAMINATION (WASSCE) FOR SCHOOL CANDIDATES, 2022 – EMERGING ISSUES
"The West African Senior School Certificate Examination (Ghana only version), enters its fifth week with the conduct of two core papers, Social Studies and English Language to be administered on 5th and 8th September, 2022 respectively.
"The Council wishes to bring to the attention of stakeholders and members of the public, a number of issues which are emerging from the conduct of the examination."
1. Restriction of Access to School Compounds for Monitoring Purposes
Reports reaching the Council indicate that some school authorities have adopted the practice of locking their school gates during the examination period with the aim of preventing WAEC Inspectors and Monitors from gaining access into their school compounds to monitor the examination.
School authorities, especially those engaged in this act, are directed to desist from the practice as such activities amount to acts of examination irregularities.
Also Read: GES Sends strong Warning to Heads of these SHS
2. Smuggling of Mobile Phones into Examination Halls by Candidates
A number of candidates have been caught with mobile phones in examination halls.
Candidates are reminded that their entire results will be cancelled when they are caught with mobile phones in the examination halls. The Council wishes to call upon School Authorities, Supervisors, Invigilators, parents and guardians to ensure that candidates abide by this rule.
Supervisors and Invigilators are also being reminded of the ban on their use of mobile phones at examination centres.
Also Read: Sanction all your 2021 WASSCE external supervisors & invigilators
3. Impersonation
Impersonation cases, which hitherto were not being recorded in school examinations are on the increase. Some impersonators have been arrested in
the ongoing examination and are in the grips of the law.
Supervisors are directed to deploy the use of the Biometric Verification Device (Vericheck) to identify candidates.
4. Syndicate Cheating in Schools
Intelligence has been received of some school authorities collecting monies from candidates and organising syndicate cheating in their schools.
Perpetrators of these acts are being cautioned to desist from same.
The Council has the mandate to de-recognise schools caught engaging in this malpractice.
Candidates identified as having colluded would have their results cancelled.
"The Council is working closely with the Ghana Education Service, the National Intelligence Bureau and other security operatives to check infringements of the rules
and regulations governing the ongoing examination."
Some hot spots have been identified and monitoring of these centres has been intensified.
The Council urges all stakeholders to collaborate with it to safeguard the integrity of the examination.
WAEC Receives Reports on Cheating in Ongoing WASSCE, should send strong warning to all the affected schools.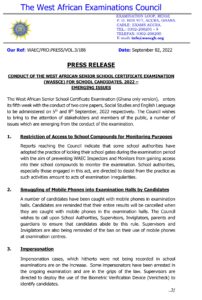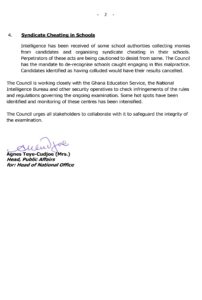 Recommended
JOIN OUR PLATFORMS BY CLICKING ON THE LINKS BELOW
<<< CLICK HERE TO JOIN OUR GENERAL WHATSAPP GROUP >>>
<<< CLICK HERE TO JOIN STUDENTS FORUM ON WHATSAPP >>>
<<< CLICK HERE TO JOIN OUR TEACHERS PORTAL GH ON TELEGRAM >>>