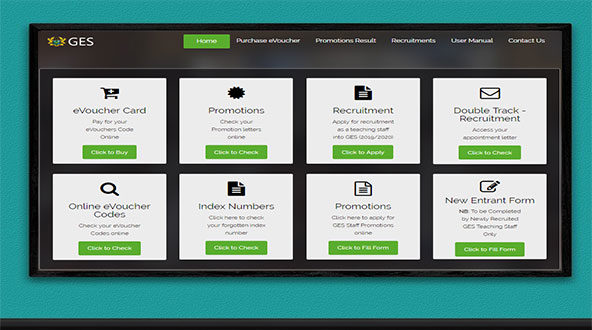 GES Posting of Teachers Returning from Study Leave 2022/2023
The management of Ghana Education Service (GES) brings to the notice of all teachers returning from study leave for the year 2022/2023 to as a matter of urgency visit the teachers portal and upload the necessary document before the system before 21st September 2022.
As stated in a letter signed by the AG. Director, HRMD, Ms. Angela Frimpomaa Nkansah and dated 29th August, 2022, with reference GES/HQ/P&T/22/02, All teachers returning from study leave with pay are to quickly provide accurate information on the teachers portal which will be needed to facilitate their posting.
"We bring to the notice of all prospective GES Staff returning from Study Leave with Pay that, the 2022 posting form has been uploaded online for qualified teachers to apply.
We encourage you to provide the required and accurate information as requested.
Please visit www.gespromotions.gov.gh to complete your forms.
The filling of online posting forms begins on Thursday, 1st September, 2022 and ends on Wednesday, 21st September, 2022.
All staff who are returning from Study Leave with Pay are required to complete the form.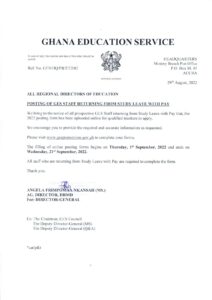 Recommended
JOIN OUR PLATFORMS BY CLICKING ON THE LINKS BELOW
<<< CLICK HERE TO JOIN OUR GENERAL WHATSAPP GROUP >>>
<<< CLICK HERE TO JOIN STUDENTS FORUM ON WHATSAPP >>>
<<< CLICK HERE TO JOIN OUR TEACHERS PORTAL GH ON TELEGRAM >>>
Related Searches
How do I apply for reposting in GES?, How do I check my GES 2022 posting?, Will GES release second batch of posting?
Disclaimer: Be aware of impersonators. no staff of icreategh will ever contact you for Protocols, repostings, or special postings. We don't represent the above mentioned institution in anyway.  The article is only for educational purposes.