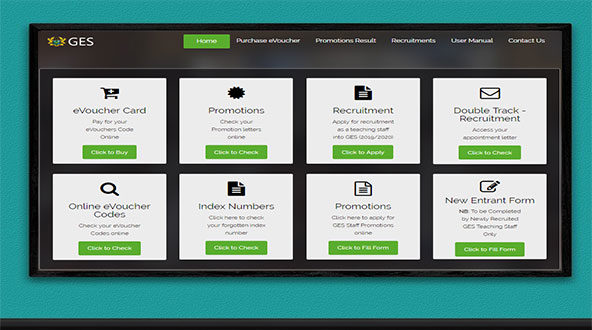 GES Non-Teaching Staff Promotion Interview Application Opens
Memo has been circulated requesting all Metro/Municipal/District Directors of Education to publish advertisement for non-Teaching staff promotions with attached list for various ranks/grades.
The Metro/Municipal/District Directors are to conduct interviews and other assessment to determine the individual applicants' suitability for the new grade applying for.
Further more, the interview and appraisal scores and other details of the applicant will be submitted to the Ag. Regional Director of Education latest by 10:00a.m. on Wednesday, 28th December, 2022.
This is to facilitate onward submission to Director-General for approval.
Rank Details
Applications are invited from suitable qualified serving Officers for consideration for promotion to the following grades:
ACCOUNTING CLASS
Senior Accountant
Accountant
Assistant Accountant
INTERNAL AUDIT CLASS
Senior Internal Auditor
Internal Auditor
Assistant Internal Auditor
CATERING CLASS
Senior Domestic Bursar
Domestic Bursar
ADMINISTRATIVE CLASS
Senior Administrative Officer
Administrative Officer
Assistant Administrative Officer
TECHNICAL CLASS
Senior Technical Officer
Assistant Technical Officer
Senior Technical Officer
LIBRARY CLASS
Senior Librarian
Librarian
Assistant Librarian
LABORATORY CLASS
Laboratory Technician
Assistant Laboratory Technical
Senior Laboratory Assistant
SUPPLIES CLASS
Supply Officer
Principal Storekeeper
SECRETARIAL CLASS
Deputy Chief Security Officer
Principal Security Officer
TRADESMAN CLASS
Foreman
Workshop Supervisor
QUALIFICATION
An applicant should have been promoted to his/her present grade on or before 1st September, 2018
He / She should have been continuously at post since that date (except for periods o approved absence) and must have very satisfactory work history and conduct within the Ghana Education Service.
MODE OF APPLICATION.
Each applicant should complete two (2) copies of APPLICATION FORMS obtained at the Metro/Municipal/District Education Offices. A recent passport sized photograph must be affixed to each application form.
An applicant's set of forms must be supported by the APPROPRIATE STAFF PERFORMANCE APPRAISAL FORM (in quadruplet) completed by the Applicant's head of institution (Second Cycle) or MMD Directors or Regional Director.
All previous Promotion Letters, especially the last promotion letter and Certified Copies of Certificates must be attached.
The completed application forms should be forwarded through the MMD offices to the Regional Education Office LATEST BY 10:00A.M. ON WEDNESDAY 28TH DECEMBER, 2022.
Late submission will not be accepted.
RECOMMENDED
You can join any of our platforms below to be updated anytime we publish new articles.
<<< CLICK HERE TO JOIN OUR WHATSAPP GROUP >>>
<<< CLICK HERE TO JOIN TEACHERS PORTAL GH (GRP2) ON WHATSAPP >>>
<<< CLICK HERE TO JOIN OUR TEACHERS PORTAL GH ON TELEGRAM >>>