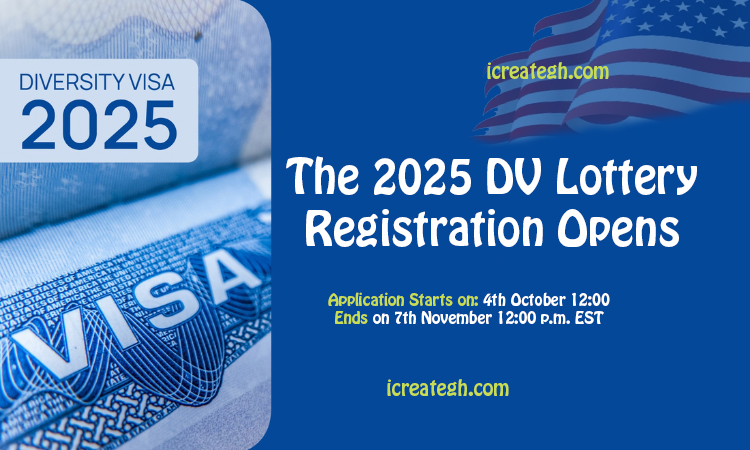 The 2025 DV Lottery Registration Opens to All
As many dream of immigrating to America for greener pastures, education etc., many routes are employed to reach the western worlds. But wait, must you risk your life to cross the ocean to achieve this fit?
In light of this, the Diversity Visa program has been introduced to cater for immigrants that want to stay and work in the United States of America.
The America DV lottery 2025 registration start date is 4th October, 2023 and it is open to all across the globe and ends noon EDT November 7, 2023.
As you know, the DV lottery Visa Program makes room for 50,000 diversity visas (green cards) yearly to winners of the program. You can be one of the lucky winners to move to your dream country.
Note: The Electronic  Diversity Visa entry is made so Simple, Easy and Free so do not pay anyone to Register you.
STEPS TO FOLLOW TO REGISTER FOR THE DV LOTTERY 2025
Log In to the official website of DV Lottery program.
Read carefully the Entry and Photo Instructions.
Click on the Begin Entry button to take you to the Entry Form (An Electronic Diversity Visa Entry Form is generated for you with OMB Control Number, Form number, Expiry date and Estimated Burden i.e, 30 minutes to finish)
Complete the Authentication Code and Submit
You are the required to Complete the form with your correct details and supporting documents to be eligible for selection.
Quick Notice: Screenshot, Save or Write down your unique confirmation number which will aid you to check the status of your Entry. You need your Entrant's Confirmation Number, Last/Family Name and Year of Birth to check the entrant status online.
Important Updates
The DV Lottery Start Date: 12:00PM EDT (GMT -4) on October 4th, 2023.
End Date: 12:00PM EDT (GMT -5) on November 7th, 2023.
Do Not provide more than One entry as this may lead to your disqualification.
You may be disqualified for not filling the form correctly.
The U.S. Portal Service will NOT accept Entries and the only way to participate us using the DV Program.
THE 2025 ENTRANT STATUS CHECK
On May 4th, 2024, the DV Lottery Entrant Status Check will be active where participants in the American Visa Lottery can check and confirm their status. You are entreated to keep checking your status until 30th September, 2025.
If you are not successful in your first try, do not be disturb, Keep trying and it will surely happen.
CLICK ON THE BUTTON BELOW TO APPLY
APPLY HERE NOW!
Join our Discussion Forum below to ask all the questions on your mind and receive answers from colleagues embarking on the same journey.
<<< CLICK HERE TO JOIN OUR JOB PORTAL ON WHATSAPP >>>
<<< CLICK HERE TO JOIN OUR WHATSAPP GROUP >>>
Disclaimer: We do not represent the U.S in any way or form in granting people or influencing their participation to win the DV Lottery. No icreategh media team will call you to pay money for influencing your opportunities in winning the lotteries. Report any imposter to the police or contact us on our official mail [email protected].
Please Share with the buttons below.
dv lottery 2025 registration start date, dv lottery 2023 status check, dv lottery 2025 eligible countries, dv lottery 2023 registration period, dv lottery 2023 results, dv lottery results, dv lottery 2024 results check, dv lottery 2022 status check, When can I apply for DV Lottery 2025?, How to apply for dv 2025?, Is Nigeria eligible for DV Lottery 2025?, What is the capacity of DV Lottery 2024?