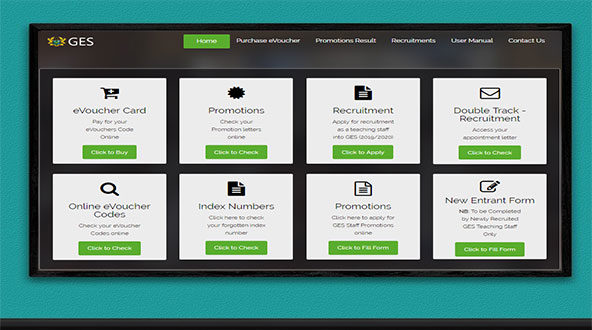 GES Promotion Exams Results Released
The GES Promotion Exams result has finally been released and more than half of teachers that registered for the GES Promotion Exams were successful.
In a letter dated 17th of August and signed by Cassandra Twum Ampofo, Head, Public Relations Unit, it has been confirmed that indeed the GES Promotion results have been released.
The letter reads;
"Management of Ghana Education Service (GES) is pleased to inform all teaching staff that results for the promotion test held in February 2023, to various teaching grades in the Service have been released."
"Out of 80,810 candidates who took the test, 59, 917 candidates representing 69% were successful.
The grades involved are:
i. Deputy Director
ii. Assistant Director I
iii. Assistant Director II
iv. Principal Superintendent
For the Deputy Director grades 8,565 candidates took the test, out of which 4,655 representing 54% passed.
For the Assistant Director I grades 25,556 candidates took the test, out of which 21,749 representing 85% passed.
Candidates who sat for the promotion to Assistant Director II grades were 40,000 out of which 24,581 representing 61% passed.
For the Principal Superintendent grades, a total of 6,668 candidates sat for the test out of which 74% being 4,932 candidates were successful.
A message will be sent to all candidates who sat for the exams to indicate whether successful or not. (Please note that the promotion site will Not be accessible this year).
Formal promotion letters will be reloaded in due course."
Meanwhile, a number of teachers have confirmed that they have indeed received SMS confirming their success.
Is this another way to keep teachers calm or what? Please share with us your thought in the comment section below.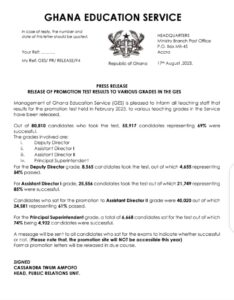 RECOMMENDED:
You can join any of our platforms below to be updated anytime we publish new articles.
<<< CLICK HERE TO JOIN OUR WHATSAPP GROUP >>>
<<< CLICK HERE TO JOIN TEACHERS PORTAL GH (GRP3) ON WHATSAPP >>>
<<< CLICK HERE TO JOIN OUR TEACHERS PORTAL GH ON TELEGRAM >>>
ges promotion index number, ges aptitude test questions and answers pdf, ges promotion questions and answers, latest news on ges teachers promotion today, ges non teaching staff promotion questions and answers, teachers promotion exam questions, ges promotion letters 2022, promotion examination, Is GES promotion exams out?, How do I check my promotion on GES?, Is GES promotion portal opened?, What is the pass mark for GES promotion exams?, GES Promotion Exams Results Released 2023, GES Promotion Exams Results Released 2024