General news
Government & Organized Labour Concludes on 15% COLA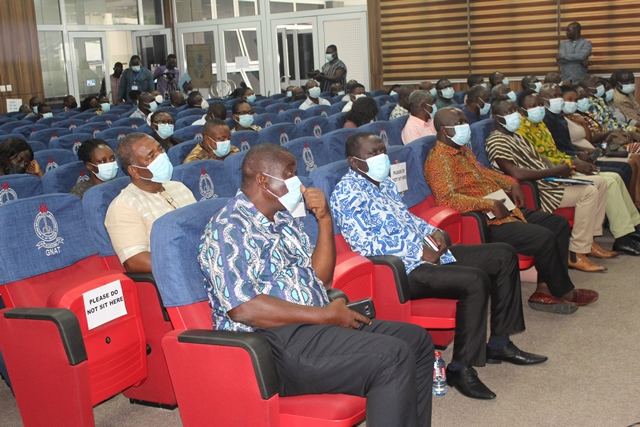 Government & Organized Labour Concludes on 15% Cost of Living Allowance (COLA) for workers
After several attempts of Organized Labour to get government to grant them 20% Cost of Living Allowance (COLA) which saw little interest from the government until teacher unions unanimously declared a strike to send a strong signal to the government that they mean business.
Many other unions in Ghana emulated the collective decision and hard work of the four teacher unions namely Ghana National Association of Teachers (GNAT), National Association of Graduate Teachers (NAGRAT), Teachers and Educational Workers' Union (TEWU) (GH) and Coalition of Concerned Teachers, Ghana (CCT – GH) to also hold press conferences signaling a possible strike.
Despite the several attempts to get the teachers to the classroom, was unfruitful as the teachers were resolute in getting the 20% COLA for its member. The President of the country H.E. Nana Akuffo Addo pleaded with them to return to the classroom but the teachers were clear, No COLA, No classroom.
A meeting was then staged between the government and organized labour to negotiate and come out with a decision on the COLA.
After several failed attempts to get teachers call off their strike before negotiations, the meeting was rescheduled to today Thursday 14th July, 2022.
Government and Organized Labour finally concluded on 15% Cost of Living Allowance (COLA) for all government workers. This both parties felt is a win-win situation for both parties considering the economic woes the country is currently faced with.
According to Daniel Opoku, TV3 labour correspondent who was in the meeting reported that the said 15% COLA is likely to take effect end of July when asked when the said increment is set to take effect.
By this notice, the striking teachers were compelled to call off the strike with immediate effect. As members wait to hear from their leaders, the directive is clear that an agreement has been reached and it means, work must resume tomorrow Friday July 15, 2022.
Meanwhile, other labour unions that are planning to go on strike are advised to decline such attempts since an agreement has been reached. The senior staff lecturers of the University of Ghana Legon inclusive are to call off their strike.
Source: icreategh.com
Recommended
Students Feed themselves as Schools Await Supplies from Ministry
Health Service Workers' Union Threaten Strike over COLA
Salaries and Conditions of Service of Teachers: A Historical Note
ICT Training for all Teachers for their CPD by KAT, GES & Microsoft
You can join any of our platforms below to be updated anytime we publish our articles.
<<< CLICK HERE TO JOIN OUR WHATSAPP GROUP >>>
<<< CLICK HERE TO JOIN STUDENTS FORUM ON WHATSAPP >>>
<<< CLICK HERE TO JOIN OUR TEACHERS PORTAL GH ON TELEGRAM >>>
Please click on the buttons below to share our post.