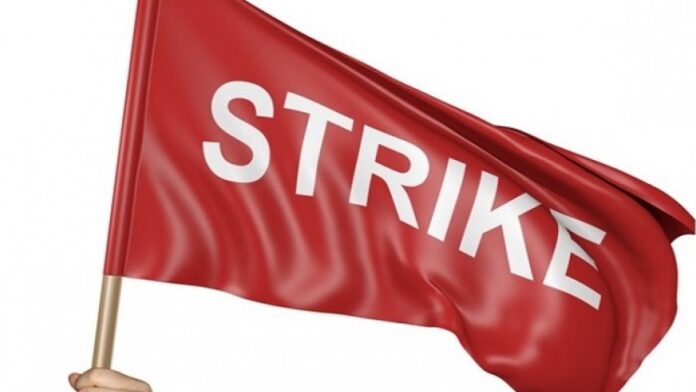 Public Services Workers declare strike
The Public Services Workers Union (PSWU) of the Trades Union Congress (TUC) have declared strike starting Tuesday July 19 over COLA.
The woes of the government seems not to be over soon as the various unions decided to strike to drive home their demands. At the time the government is pleading with teachers to go back to the classroom as negotiations are ongoing, the Public Services Workers worsen the case by declaring strike today.
The strike as they mentioned is as a result of the rising rate of inflation in the country and many other factors.
In a press statement pronouncing the decision on Tuesday July 12 said "This situation is further worsened by the refusal of Government to grant mandate for the negotiation of institution-specific conditions of service for a number of organizations under the Single Spine, and sometimes its resort to delay tactics during negotiations.
"The over 27,000 workers within the over 65 public sector institutions that make up the PSWU feel the economic crunch in their pockets, with each passing day resulting in uncertainties of meeting basic needs. Obviously, a possible return to the IMF further complicates the economic uncertainties faced by public sector workers and flashes back memories of harsh labour policies that disadvantage the ordinary worker.
"Noticeably, a decision to enter into an IMF programme risk a return to a harsh industrial atmosphere rife of conditionalities such as sale of critical and well performing national assets, redundancies, freeze on employment, freeze in wages (an intention denied by His Excellency the President during his Remarks at the 1lth Quadrennial Delegates Conference of the TUC (Ghana) in Kumasi on23,dMarch, 2021).
"Further, for a number of workers who retired under the National Pensions (Amendment) Act,2014 (Act 883) which came into full force until January,2020, the disparity in their lump sum payments as compared to those who retired under PNDCL 247 have not been resolved.
"This has led to the already vulnerable members of our society, the aged, going through further economic hardships despite the firm assurances of the President to resolve this matter as far back as 13th October, 2020 in the heat of the Elections Campaign."
It reiterated that "Consequently, at an Emergency Meeting of the Management Committee and representatives from the over 65 institutions that make up the PSWU, our members were left with no choice than to embark on a strike effective Tuesday 19th July 2022 until our concerns are addressed."
I am wondering why people decided to use abusive words on teachers who decided to use the language well understood by the government. If you are one of those insulting teachers because they are striking, then you must rethink as many other unions are likely to strike this week. Some teachers says, they can't sacrifice on an empty stomach and walk several kilometers to work. They also deserve to at least pay for "trotro" and provide descent meals to their families.
Credit: 3news
Download the press release below
Public Services Workers declare strike
Recommended:
TEWU : CHASS Members Intimidating Non-Teaching Staffs Must Stop
ICT Training for all Teachers for their CPD by KAT, GES & Microsoft
More Trouble as Nurses and Midwives also Demands COLA
You can join any of our platforms below to be updated anytime we publish our articles.
<<< CLICK HERE TO JOIN OUR WHATSAPP GROUP >>>
<<< CLICK HERE TO JOIN STUDENTS FORUM ON WHATSAPP >>>
<<< CLICK HERE TO JOIN OUR TEACHERS PORTAL GH ON TELEGRAM >>>
Please click on the buttons below to share our post.