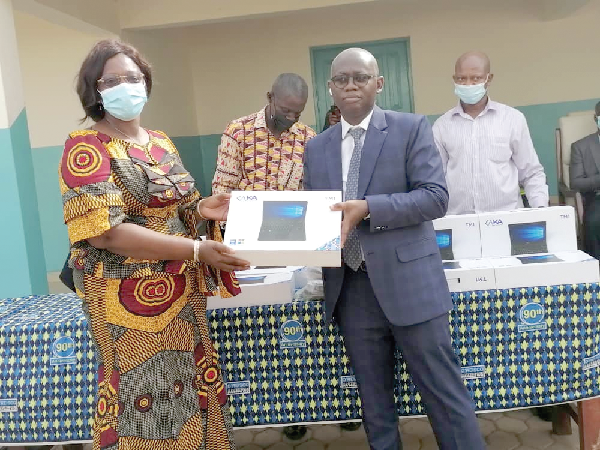 New Date for Distribution of Remaining TM1 Laptops to Teachers
Management of the Ghana Education Service have issued a communique on the 22nd day of November 2022.
Communique
The message seeks to bring to the attention of all staff that the distribution of the Teacher's Mate laptops to teachers who are yet to receive theirs is scheduled to continue soon.
Brief Origin of The TM1
The TM1 laptops was procured by government in collaboration with the Ghana Education Service for teachers under the "One Teacher One Laptop Initiative".
The government supported this initiative with a 70% subsidy for each teacher and the beneficiary teacher will pay the remaining 30% of the total cost.
The total cost of the TM1 for one is GHC1,831.47. the government absorbed GHC1,282.30 while the teacher will pay GHC549.44.
The distribution of the laptops commenced in September 2021 in St. Mary's Girls SHS teachers and is said to continue across the country until every teacher have received theirs.
But after delay in distribution for some months and agitation from teachers and teacher unions concerning the delay.
GES has yielded to the plight of these teachers and has informed all regional directors to notify their respective staff in their region to anticipate receiving their laptops starting in November 2022
Update
In view of this, all retired staff whose payslip shows that they were deducted for the laptop from November 2021 should be given their laptops.
In addition, relatives of deceased staff who have also been deducted for the laptops should be contacted and permitted to receive the laptop after proper verification of documents.
By the letter issued, Management is requesting Regional Directors of Education to officially inform, Metro, Municipal, District Directors of Education within their respective regions.
They should ensure that the distribution is done smoothly and accordingly.
RECOMMENDED
You can join any of our platforms below to be updated anytime we publish new articles.
<<< CLICK HERE TO JOIN OUR WHATSAPP GROUP >>>
<<< CLICK HERE TO JOIN TEACHERS PORTAL GH (GRP2) ON WHATSAPP >>>
<<< CLICK HERE TO JOIN OUR TEACHERS PORTAL GH ON TELEGRAM >>>
Related Searches
tm1 laptop price in ghana, tm1 laptop website, teachers laptop distribution time table, tm1 laptop drivers tm1 laptop specification, tm1 laptop boot key, primary teachers laptops