Education
General news
NUGS To Partner CITI TV on The NUGS Special Project to Support Basic School Infrastructure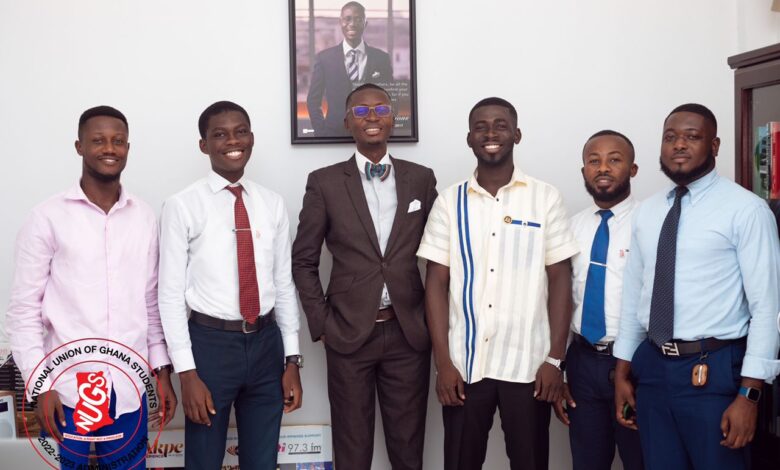 NUGS To Partner CITI TV on The NUGS Special Project to Support Basic School Infrastructure
The National Union of Ghana Students (NUGS) engaged the management of Citi Tv on its project to provide infrastructure support to some down-at-the-heels schools in the rural areas. This is one out of many visions NUGS want to institute this year.
The Executives of NUGS paid a courtesy call on the General Manager of Citi TV to put forward their project for the year and discussed it with the Station and to also call on them to collaborate as a media brand for their project.
It is not surprising to see Dennis Appiah Larbi-Ampofo led admistration contributing immensely to the schools infrastructure deficit the country is currently faced with. The vibrant and energetic President and his team upon meeting with General manager made clear why the project is so dear to them.
Mr. Dennis Appiah Larbi-Ampofo, the President for NUGS mentioned in his presentation that, "It remains a central interest in our leadership to build a legacy project that sets the conversation for spotlight on the poor state of infrastructure in some basic schools especially in the North of the country".
He continued to state emphatically that "Citi TV is a notable brand and has supported education in many ways especially by making news of the essential matters to students, this is another call to serve Ghana".
Mr. Dennis Appiah Larbi-Ampofo further stated that "the need for a strong media partner in this project cannot be over emphasized, imagine, we put our heads and hands together to raise the needed funds to build at least a six unit classroom block for Bosnia Basic school in the Kassena Nankana West District where students learn in a mud-unroofed building, we want these issues to be at the center of national discourse and we want to be the leaders in this bold step"
Mr. Bernard Avle advised the Union leaders to build a remarkable vision. He went ahead to assure the Union leaders of his readiness to support them in various ways that will help build mother Ghana.
The leadership of NUGS is hoping the discussion becomes fruitful and yield amazing results since it will help them to achieve their awesome project to see the light of day.
Recommended:
Please if you are on any of our WhatsApp platforms, do not join this one.
Join our Discussion Forum below.
<<< CLICK HERE TO JOIN OUR WHATSAPP GROUP >>>
<<< CLICK HERE TO JOIN STUDENTS FORUM ON WHATSAPP >>>
<<< CLICK HERE TO JOIN OUR TEACHERS PORTAL GH ON TELEGRAM >>>
Please don't forget to share this post. Click on the WhatsApp, Facebook, Twitter, Instagram button below to share the post.