General news
Togbe Afede justifies the Rejection of over GHS 365k Ex-gratia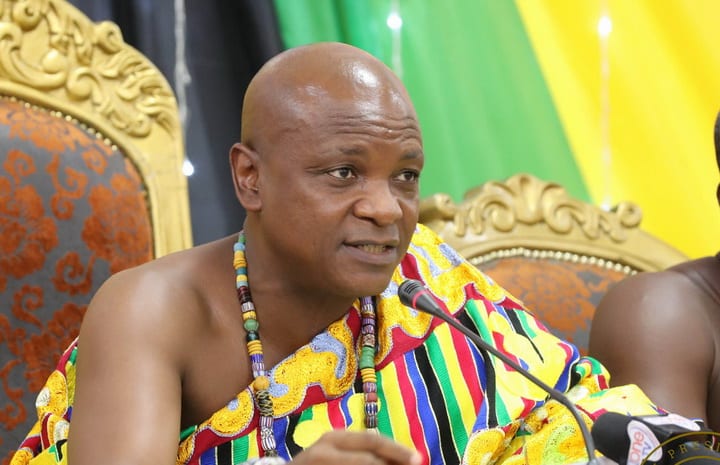 Togbe Afede justifies the Rejection of over GHS 365k Ex-gratia
Togbe Afede XIV is the Agbogbomefia of the Asogli State, in the Volta Region. His demonstration of a true leadership can't just slip through our fingers but needs to be recommended. His conduct of rejecting a gargantuan amount of over GH₵ 356k ex-gratia to the Controller and Accountant General has earn him a public praise as many on social media cannot stop touting the good leadership he exhibited.
Former Council of State member, Togbe Afede XIV, rejects over GH₵ 365k "outrageous" ex-gratia for his 4-years service. It was revealed in a letter sighted on social media by icreategh team and also reported by 3news on his rejection of the said amount.
Excerpts of the letter reads, "There have been various publications and comments recently on my refund of GH₵ 365,392.67 paid into my account, and I wish to provide the following
He provide the following clarifications for refunding an amount of GH₵ 365,392.67 paid into his account.
And it states, "While working on my tax returns towards the end of last year, I received receipts from the Council of State Secretariat that indicated that some money was paid into my bank account in July, 2021 as "Ex Gratia" for my four-year work as a member of the Council of State, 2017-2020."
He continued, "I applied for and received a statement from my bankers that confirmed that indeed some money was paid into my account. I eventually confirmed from the Council of State Secretariat that the sum of GH₵ 365,392.67 was paid into my account as Ex Gratia."
According to Togbe Afede, he did not think the payment was made to trap him, as is been speculated since he believes it was paid to his predecessors. But his reason form rejecting the said amount was because "extra payment was inappropriate for a short, effective part-time work, for which he was receiving a monthly salary and was was entitled to other privileges which made him uncomfortable".
The letter further stated that "After weeks of trying, I obtained advice on how to refund inappropriate payments to the State, and on March 4, 2022, I made the refund into the Controller & Accountant General's Department Suspense Account at the Bank of Ghana."
He stated in his letter to the Secretary, Council of State that "It was a great honour for me to have served on the Council of State for four years, 2017 to 2020. Even though I served as chairman of one of the three (3) committees of the Council, the Economy and Special Development Initiatives Committee, and participated fully in the Council's activities, I do not think my work merited the payment to me of a colossal sum of GH₵ 365,392.67, as Ex Gratia, in addition to the salary I enjoyed from what was effectively a part time job".
He concluded by saying, "I want to add that my rejection of the payment was consistent with my general abhorrence of the payment of Ex Gratia and other outrageous benefits to people who have by their own volition offered to serve our poor country".
This got social especially, Twitter busy as some think it was a good call, few others also think the money will finally end up in the wrong pockets hence the need to have used it to develop his community or gift it to charity.
We at icreategh.com respect his decision to refund the amount into state coffers so it could be used to safe the cut-throat economy.
Some tweets on Togbe Afede rejecting over GH₵ 365k on twitter.
There's no better way to teach a great principle. Well done Togbe! You have shown the way. We hope that others will follow. This is a testament to how badly the finances of this country is being managed. If all the numerous govt appointees receiving undeserved monies did same…
if you guys have Ghana at heart like you preach, don't you think it's time you follow the steps of Togbe? Loyalty or love for a nation is not a word of mouth but by actions
He should have used the money for any developmental project or pay school fees for needy individuals and then send the receipts to the government/ media. The "rejected money" is already in the pocket of someone.
What is your take? Leave your comment or Suggestions in the comment section below.
RECOMMENDED
Click the link below to Join our Discussion Forum for regular news updates.
Don't forget to share with the social media buttons below.