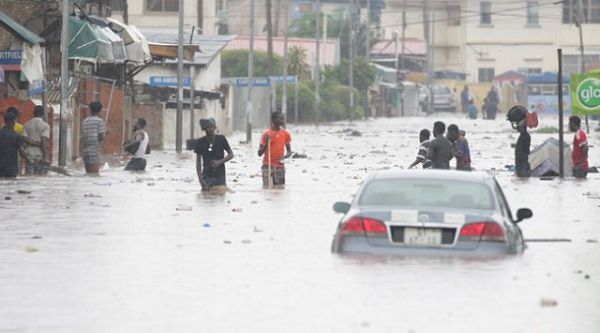 Floods in Accra Again
As sang by Sonnie Badu, "Open the flood gate, in abundance", the people staying in Accra will definitely not want to sing this aspect of the song. This is because, the floods they are experiencing is too unbearable and wouldn't want the flood gates to be open. This is just on the lighter note.
Adabraka, Tesano, Kaneshie, Weija among others experienced heavy downpour this morning and residence can not get out of their rooms. The rain which started around 2am today, saw this areas heavily flooded and are calling on the authorities to do something about their predicaments. The rain as at 7:00am continued to fall which is causing so much fear in the residence. Understandably, Awoshie is not left out as some areas as usual' also got flooded. The rained started in this area yesterday in the evening and stopped this morning. Evidently, the areas in Awoshie with good drainage haven't experience the flood at all.
The flood has entered most homes and destroyed several properties. As at this time, no casualties has been recorded.
Complaints from some residence are that, people built on rain ways which makes it difficult for the rain to freely flow. Others also lamented about the poor drainage in this areas and claimed this could have reduced or prevented the floods. Choked gutters with plastic materials among others are the causes of this flooding. It is believed that many homes now resorted to cementing or laying pavements which makes it difficult for rain water to sink into the ground. This is believed to be among the many causes of flooding in Accra.
According to meteorologist, the day will be cloudy in most parts of the country hence advised that people move out today with their umbrellas".
The big question is, until when will the people of Accra be rescued from this long flooding situation?
Recommended:
Please if you are on any of our WhatsApp platforms, do not join this one.
Join our Discussion Forum below.
<<< CLICK HERE TO JOIN OUR WHATSAPP GROUP >>>
<<< CLICK HERE TO JOIN STUDENTS FORUM ON WHATSAPP >>>
<<< CLICK HERE TO JOIN OUR TEACHERS PORTAL GH ON TELEGRAM >>>
Please don't forget to share this post. Click on the WhatsApp, Facebook, Twitter, Instagram button below to share the post.