Entertainment
Kwame A-Plus Clashes with Feli Nuna on United Showbiz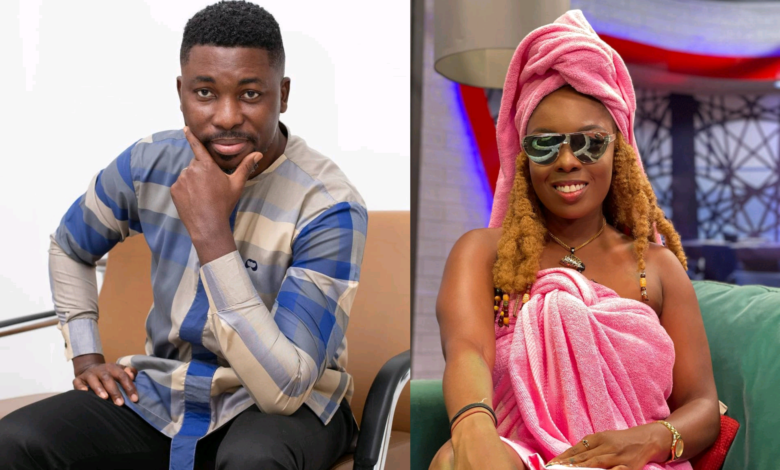 Kwame A-Plus Clashes with Feli Nuna on UTV's United Showbiz program 
Before the start of the show, the usual host Nana Ama McBrown stated how people kept asking whether or not she has been sacked and of whether she has given birth to twins. She clarified the air that she would be happy to be pregnant with twins but the circular is false. He advised that people shouldn't believe just anything they see on social media. She again mentioned that she has not been sacked from UTV.
The United Showbiz program on UTV monitored by icreategh.com, saw hot exchanges between Kwame A-Plus and Feli Nuna. The programme was hosted by Nikki Samonas with Logic, BullGod, Coded, Feli Nuna and Kwame A-Plus as guests.
Nikki asked if getting a manager is difficult as a female artist. Logic started by praising Nuna's first song which made him liked the artist but also claimed, he wasn't pleased how female artist continuously paint managers black with claims of they trying to sleep with them before they help. The heat started right there when Nuna tried to prove a point that such claims are true. A-Plus backed her that it isn't bad they make such claims public.
The fire started when A-Plus said to Nuna, "Your boyfriend that is rich but doesn't invest in music. You go and look for someone to invest while your boyfriend hides his?"
The statement which didn't go down well with Feli Nuna, retorted by insulting A-Plus by saying made her to say this, "Does what you are saying make sense?" A-Plus then reframed his statement but added that what doesn't make sense is, "You and the boy you are moving with, he is a very f*'king boy". He claimed not to understand why her boyfriend can't invest in her but someone wants to invest and suggest he likes her and she gets angry.
One would have expected the host Nikki Samonas to do the needful but allowed A-Plus to continue his speech. Maturely, Nuna reposition herself and seized fire. She made it clear that she has a supportive boyfriend that even sponsored her music video before.
One will expect the argument to die there but no, it continued as Nuna alerted A-Plus she's dating a wise person. She said this by saying, "He's not in the music industry but he is a proud poet and a research scientist. He is bright and more intelligent than you". The host tried to make her to desist from the harsh words but she declined. She made it categorically clear that she won't allow anyone on any platform disrespect her.
The host at the tail end of the program requested both parties to say sorry to each other for their choice of words but A-Plus strongly rubbishes it. He claims to be more crazy than Nuna hence she should slow down. Nuna at this point begins to make fun with everything he says. BullGod tried to pass a comment but the environment was too hot to sustain his comment.
Well, Mr. Logic who started the argument also ended it by saying that no matter how strong and how well positioned a woman is she will stand before a man. He expected her to show respect to A-Plus and draw his attention to the word he used that hurts her but not attacking him the way she did. Nuna apologized to the viewers but insisted A-Plus is not ready for an apology.
Do you think A-Plus is right to insult Nuna's boyfriend?
Is Nuna also write to insult A-Plus?
Share your thoughts on this with us in the comment section below;
Source: icreategh.com
Recommended:
Please if you are on any of our WhatsApp platforms, do not join this one.
Join our Discussion Forum below.
<<< CLICK HERE TO JOIN OUR WHATSAPP GROUP >>>
<<< CLICK HERE TO JOIN STUDENTS FORUM ON WHATSAPP >>>
Please don't forget to share this post. Click on the WhatsApp, Facebook, Twitter, Instagram button below to share the post.