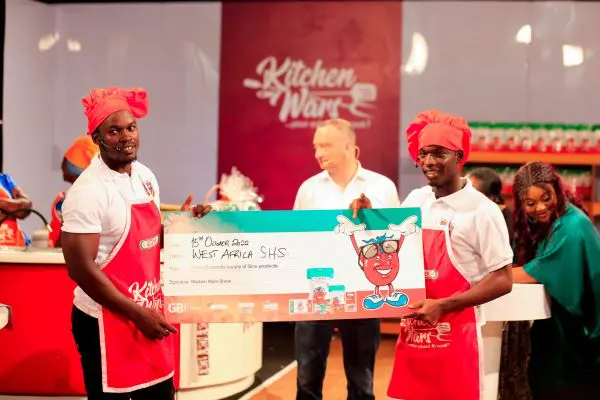 West Africa SHS Emerges Winners of TV3 Inter-schools Cooking Competition.
TV3 KITCHEN WARS SCHOOLS CONNECT, SEASON 1
One of the activities organized to earmark TV3's 25th Anniversary Celebrations is the Kitchen Wars Schools Connect.
This is an inter-schools Old Students culinary cooking competition launched on 14th April, 2022 as TV3 KITCHEN WARS SCHOOLS CONNECT, SEASON 1. Participants of the maiden competition included 32 alumni teams drawn out from the various senior high schools and regions across the country.
SCHOOLS INVOLVED
In all, there were 8 groups made up of 32 different schools across the country.
Group1: New Juaben SHS, St Mary's Girls SHS, St. Augustine's College, and Sogakope SHS.
Group2: Jachie-Pramso SHS, OLA Girls SHS, Adisadel College, and Mawuli School.
Group3: St. John's Grammar SHS, Aggrey Memorial A.M.E Zion SHS, Archbishop Potter Girls SHS, and West Africa SHS.
Group4: Okuapeman Secondary, Ghana National College, Aburi Girls, and KSTS.
Group5: Abuakwa State College, Mfantsiman Girls, Holy Child SHS, and Kpando SHS.
Group6: LL Ahmadiya SHS, Accra Academy, Pope Jones SHS, and Awudome SHS.
Group7: Krobo Girls SHS, St. Roses SHS, PRESEC Legon and Sekondi College.
Group8: Keta Senior High Technical, St. Francis Girls, Prempeh College, and Peki Technical.
The first episode of the competition commenced with schools such as New Juaben SHS, St Mary's Girls SHS, St. Augustine's College, Sogakope SHS, in group one.
from 16th July 2022 and had its finals on Saturday 15th October, 2022 at The Aviation Social Centre.
INVITED GUESTS
To grace the occasion, the event was hosted by the popular Date Rush host Giovanni, they could not leave out Gino Brand Ambassador, the famous Jackie Appiah as one of the judges.
Numerous events such as games, food bazaars, product exhibitions and music were not left out. Some Schools were invited to participate in competitive games like men and women basketball, football and dance competition.
Music artists such as TV3 Mentor X Winner DSL,  Dope Nation, FBS music, D Cryme and a lot more were also invited to give the audience some good danceable tunes.
INVITED SCHOOLS
Schools invited to add flavor to the occasion by participating in the games are:
Odorgonno Senior High School, Accra
Adonten Senior High School, Aburi
La Presbyterian Senior High School, Accra
St. John's Grammar Senior High School, Accra
Accra Academy, Accra
Aburi Secondary Technical School, Aburi
St. Thomas Aquinas Senior High School, Accra
FINALISTS
The schools that made it to the finals are:
OLA SHS, Ho
West Africa SHS, Accra
Sogakope SHS, Sogakope
Sekondi College, Sekondi.
WINNERS OF KITCHEN WARS SCHOOLS CONNECT – SEASON 1
The West Africa Senior High School popularly known as WASS walked away with the bragging right at the end of the event.
The winners left with a mouth-watering package of GHC10,000, 3-month supply of Gino products to the school and an abroad trip for the contestants.
Source: icreategh.com
RECOMMENDED 
You can join any of our platforms below to be updated anytime we publish new articles.
<<< CLICK HERE TO JOIN iCreateGH.com News Group 2 ON WHATSAPP GROUP >>>
kitchen wars tv3 host, kitchen wars tv3 time, cookie tee, kitchen ware, tv3 cooking war 2022, tv3 cooking war 2023, West Africa SHS Emerges Winners 2022