2022 BECE School Selection Exercise Begins.
BECE School Selection
The Ministry of Education has released a communique informing the general public about the commencement of the 2022 BECE candidates school selection exercise.
This years' Basic Education Certificate Examination (BECE) is slated to begin on the 17th day of October and end on the 21st day of October. A week-long exercise for qualified registered candidates.
In the press release, the ministry is notifying the public about a video that they have made available to explain the school selection guidelines for candidates, parents or guardians.
Therefore as a result, this video will air on various Television (TV) networks and it will also be played on radio stations across the country and can be accessed on the free SHS website.
However, the communique which was signed by the spokesperson for the Ministry of Education, Mr. Kwasi Kwarteng provided a scheduled timeline for the school selection process.
<<< CLICK HERE TO JOIN iCreateGH.com News Group 2 ON WHATSAPP GROUP >>>
<<< CLICK HERE TO JOIN OUR JOB PORTAL ON WHATSAPP >>>
Timeline Schedule
the timeline for the exercise is as follows:
— Showing of School Selection Video to BECE Candidates. Begins on 24th October, 2022 and Ends on 29th October, 2022.
— Selection of Schools by Candidates or Parents or Guardian. Begins on 31st October, 2022 and ends on 18th November 2022.
To conclude, the Ministry assuring the public that it is commitment to ensuring a smooth and effective school selection and placement process.
In order to access the video for the guidelines, visit {link to free SHS website (www.freeshs.net)}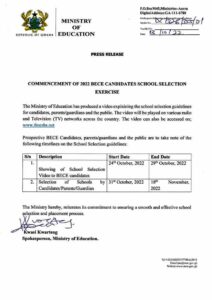 bece school selection form, 2022 bece school selection list, bece school selection date, shs school selection list 2022, school placement 2022, bece school selection list 2021 pdf, bece school selection 2021, school placement checker, 2023 bece school selection list, shs school selection list 2023, school placement 2023, bece school selection 2021