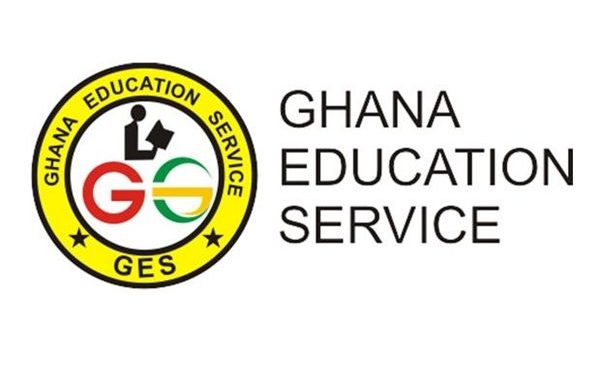 GES Warns Final year JHS and SHS Students playing Truant.
In a letter sighted by icreategh.com, GES warns Final year students in JHS and SHS playing truancy. The letter was dated 9th June, 2022 with reference GES/DG/247/22/170 and signed by Prof. Kwasi Opoku Amankwa, Director-General.
The content of the letter is to bring to the attention of students the stringent sanctions that will be meted on them should they be caught in playing truancy especially, now that they have been registered for their final exam.
One that lived in Ghana last year may have witnessed the action of some students that felt they were not permitted to cheat or send foreign materials to the examination hall so, they decided to burn properties in the school. Interestingly, students that usually participate in property destructions in the various schools are the ones that failed to learn or were irregular in school. Some say goodbye to the classroom and will never attend classes until they have BECE/WASSCE.
GES have this to tell them, "Management of the Ghana Education Service (GES) has been reliably informed that some Junior and Senior High School form three (JHS3 and SHS3) students consistently, refuse to attend school and classes after registering for their Basic Education Certificate Examination (BECE) and West African Senior School Certificate Examination (WASSCE). This is an act the GES considers a major misconduct by students".
"It has also come to the notice of Management of GES that, some of these truant students engage in undesirable acts such as dealing in drugs, bullying, wearing unprescribed attire, use of mobile phones on school campuses and blatant disregard for school rules and regulations".
Sanctions that are likely to apply to culprits is also spelt out in the letter and it reads, "Students and parents should be made aware that these sanctions can be applied, Deboardinization, Writing the examination under Police/Parent escort, West African Examination Council (WAEC) not admitting them to the examination centre to write the papers".
"Management of GES therefore, urges school authorities to report any criminal acts of students to the Ghana Police Service (GPS) for investigations and subsequent prosecution" the letter further stated.
Students and parents are to be reminded that any student that is under Police investigation during BECE or WASSCE period will only be allowed to participate in the exam under police escort. Students that may have disciplinary issues during the period will only be allowed at the examination centres with an escort by their parents.
Students must be advised to stay glued to their books and prepare adequately for their final exam rather than engaging in activities that will hinder their preparedness hence opting for "APOR".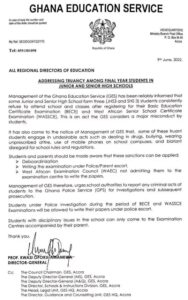 Source: icreategh.com
Recommended:
Don't join more than one of the same platforms.
Join our Discussion Forums below.
<<< CLICK HERE TO JOIN OUR WHATSAPP GROUP >>>
<<< CLICK HERE TO JOIN STUDENTS FORUM ON WHATSAPP >>>
<<< CLICK HERE TO JOIN OUR TEACHERS PORTAL GH ON TELEGRAM >>>
Please click on the buttons below to share our post.