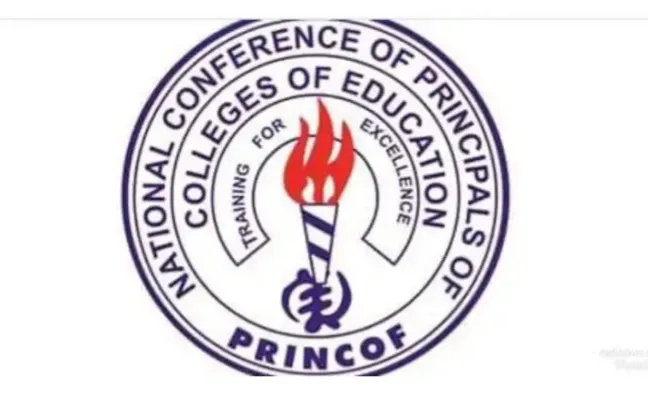 Teacher Trainees to Fend for Themselves – PRINCOF
Principals of Colleges of Education – Ghana (PRINCOF) made a request for permission to ask students in Colleges of Education to fend for themselves. This was revealed in a letter dated 31st October, 2022, signed by the Executive Secretary of PRINCOF, Dr. Harriet Naki Amui.
In the letter, it is noticed that the economy has bite hard on every aspect of the teachers on the field and those in the school. Princof thinks with the economic woes, teacher trainees must fend for themselves since the amount allocated to their feeding is now a chicken change and the said amount no longer have the bargaining power as the prices of goods and services keep on sky rocketing.
Recommended:
GNAT Calls for Members' Promotion, Upgrade and Laptops
Updates on 2022 National Standardized Test (NST) for Basic 2 (P2) and Basic 4
GES category of Schools in Ghana – 2022
They said "I write on behalf of the Conference of Principals of Colleges of Education (PRINCOF), to seek your approval for Principals to ask students to fend for themselves effective Monday November 7, 2022."
PRINCOF when given the green light, will allow trainee teachers to feed themselves.
The letter further reads, "Principals of Colleges of Education have been trying really very hard to feed trainee teachers in recent times as a result of current market trends. Prices of all food items have shot up astronomically, and food suppliers have refused to supply any food items to Colleges because of indebtedness of Colleges to these suppliers. A request for an upward review of the feeding grant paid to Principals has not been approved, and it has therefore become increasingly difficult for Principals to continue to provide three meals a day to students at Six Cedis, Fifty Pesewas (GHC 6.50)."
"In the light of the above, it is the wish of PRINCOF to be given permission to ask students to start feeding for themselves. This is to ensure that the already stretched academic year is not disrupted as stated in the letter".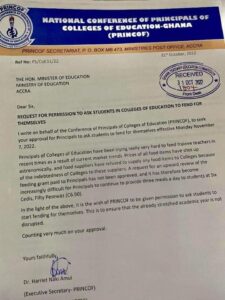 RECOMMENDED
You can join any of our platforms below to be updated anytime we publish new articles.
<<< CLICK HERE TO JOIN OUR WHATSAPP GROUP >>>
<<< CLICK HERE TO JOIN TEACHERS PORTAL GH (GRP2) ON WHATSAPP >>>
<<< CLICK HERE TO JOIN OUR TEACHERS PORTAL GH ON TELEGRAM >>>