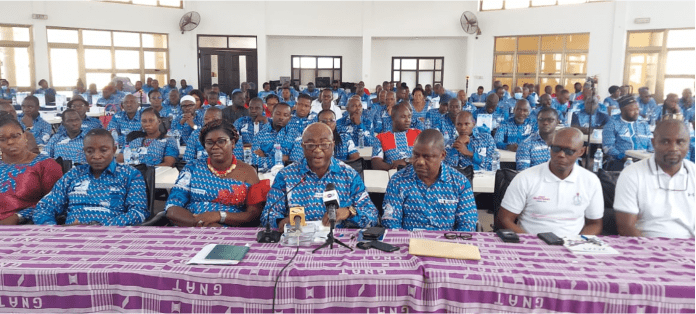 GNAT Calls for Members' Promotion, Upgrade and Laptops
The Ghana National Association of Teachers (GNAT) is worried over the way and manner teachers are taken for ride. The association as mentioned that they don't understand and are very disturbed over the reluctance of the Ghana Education Service towards genuine concerns they have as an association. Just to mention a few, teachers promotion is taking like forever as upgrading to their respective ranks too has halted causing so much agitation among its rank and file.
During GNATs' 2022 Nation Council meeting, the association indicated that the "delays in supplying laptops, allowances payment and opening of base pay negotiations could trigger labour unrest among teachers all over the nation".
In GNATs' communique, which says, "the decision by the Ministry of Education to appoint a Director General of the GES who is not a thoroughbred educationist not only sets a bad precedent, but also sends a negative signal to hardworking teachers and educationists that they have no opportunity of occupying that space".
Recommended:
It would be recalled, the recent appointment of a new director general of the GES had caused uproar among teacher unions and according to the national council of GNAT, "the response of the Ministry of Education on the matter on concerns raised, further goes to create disharmony" in the education labour front, as stated on 3news.
The communique further reiterated the "need for staff who were promoted and upgraded since 2015 to be placed on the right scale".
The "council finds this irritating and provocative; with the potential of disturbing the peace on the education front. GNAT therefore calls on the Ministry of education and GES to resolve this issue and all other matters relating to this and lower rank promotions by the end of December this year".
GNAT demanded from the government to see to it that the "2022 collective agreement is reviewed" after having ran for 3 years.
GNAT again asked the Ministry of Employment and Labour Relations to open the window for base pay negotiations by November, 2022.
Also Check: BECE School Selection List 2022/2023 Academic Year.
The association is worried, the Ghana Education Service (GES) occupational pension scheme (GSOPS) run by the Controller and Accountant's General is in 6 months arrears, as a result, "GNAT wants members to be reimbursed" with immediate effect.
The association finally calls on the Ministry of Finance to pay all tier 2 funds by the end of November 2022.
In this hard economy, the least a teacher would expect is to continue next year with a salary that cannot even sustain him let alone, the family.
Calls from GNAT must be joined by other teacher unions so the government can take them serious.
Credit: 3news.com
RECOMMENDED
You can join any of our platforms below to be updated anytime we publish new articles.
<<< CLICK HERE TO JOIN OUR WHATSAPP GROUP >>>
<<< CLICK HERE TO JOIN TEACHERS PORTAL GH (GRP2) ON WHATSAPP >>>
<<< CLICK HERE TO JOIN OUR TEACHERS PORTAL GH ON TELEGRAM >>>