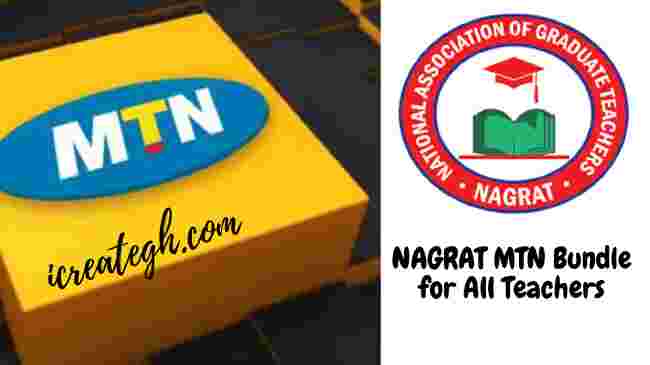 NAGRAT MTN Bundle for All Teachers
The National Association of Graduate Teachers (NAGRAT) has brought relief to its members following the hardship the economy has post to teachers. As an association, they deem it fit to join the Ghana National Association of Teachers (GNAT) in providing affordable data bundle to teachers to ease their pain.
The data package which is to help the Ghanaian teacher to conduct meaningful research and be abreast with the current trends so not to be left behind.
For one to be able to access the data, you must be a professional teacher with a valid Staff ID to be able to purchase the data.
The good thing about the NAGRAT data package is that you don't have to wait over weeks to get your data bundle as data is loaded same day in few minutes or hours. Maximum wait hours is 24hrs which makes this package the best so far.
READ ON:
Follow the procedures judiciously to get your package loaded.
The NAGRAT Data bundle is non-expiry and qualified teachers are liable to buy at least one's every month.
The packages and cost includes;
✓ 10gig for 27cedis
✓20gig for 54 cedis
Procedures:
Dial *227*2234# on MTN Network and follow the prompt
Select your preferred NAGRAT package. (Option 1: MTN 10gig Data Bundle GHS 27 or Option 2: MTN 20gig Data Bundle GHS 54).
Enter Beneficiary's Phone Number.
Press 1 to Confirm or Press 2 to Cancel.
Check your phone for prompt from MTN Mobile Money or Kindly Dial *170#, select option 6: My Wallet followed by Option 3: My approvals to complete the transaction.
Alternatively, you may also use the link below to purchase the bundle.
https://collections.kowri.app/main/2234
For Any form of assistance, kindly Contact 0555552404. You can only Text or WhatsApp this number as you may be completed ignored should you call.
Note: Loading may sometimes delay but do not panic as everyone will be served. Loading may sometimes take 24 hours so chill up.
Remember, Terms and Conditions Applies
THE GRADUATE TEACHER FOR EXCELLENCE
Share The NAGRAT MTN Bundle for All Teachers with All teachers to also benefit. Do not be Selfish, Spread the Info among Teachers.
Get interactive with Us by leaving a comment in the Comment Section Below.
RECOMMENDED:
You can join any of our platforms below to be updated anytime we publish new articles.
<<< CLICK HERE TO JOIN OUR WHATSAPP GROUP >>>
<<< CLICK HERE TO JOIN TEACHERS PORTAL GH (GRP3) ON WHATSAPP >>>
<<< CLICK HERE TO JOIN OUR TEACHERS PORTAL GH ON TELEGRAM >>>