General news
Reading Festival launched in Kpando Municipality among Basic Schools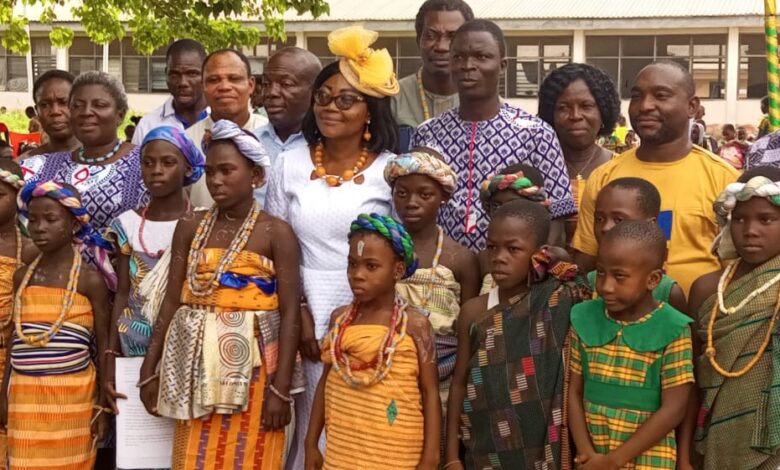 Reading Festival launched in Kpando Municipality among Basic Schools
Basic schools in the Kpando municipality took part in Reading festivity that happened on Tuesday 28th Of June, 2022 at the Kpando Technical Institute.
This is the first time such festivity was initiated and it's based on the theme "LEARN TO READ AND READ TO LEARN"
In a speech delivered by Miss Hilda Amegacher the Municipal Director of Education, the major causes of the poor performance of students in the Basic Education Certificate Examination (BECE) and West African Senior School Examination (WASSCE) over the years is as a Result of the inability of the students to read and understand.
She added that she sees it to be a necessity to reignite the spirit of reading among pupils and also thanked all participants and guests for honoring their invitation regardless the short notice served them, they responded swiftly in their numbers.
The Chairperson of the event the Queen Mother of Kpando Aloyi, Mama Komlateng II said "the standard of education is falling based on pupils inability to read and understand English and local languages". she believes that if the reading festival among the basic schools should continue every year, it will lay a strong foundation at the basic level and beyond and also asked that the students must be encouraged to read at least one book a week to enhance their vocabulary.
Speaking to the news desk of Akpini Radio 96.7 fm the MCE, Hon. Joe Badasu stated that "the government cares about Education, starting from the Free Education to Free school feeding for basic schools in the country."
He added that all basic school students should be encouraged to read because the reading festivity was initiated to enhance their learning.
He concluded by saying, "due to television, students no longer pay attention to reading and it's not helping the Educational system."
Basic schools in the municipality were divided into five (5) circuits; AKPINI SOUTH, AKPINI NORTH, AKPINI EAST, AKPINI WEST and AKPINI CENTRAL.
They all took part in Reading Aloud, Reading Comprehension, Word formation, Poetry recital, News casting and Spelling B.
Also Read: 
Car veers off Ofoase-Ayirebi Road into Boti River
Faith-Based Organization (FBOS) Educated Youth Leaders On SRHR And SGBV In Afadzato South District.
Join our discussion forum below by clicking on the link. Drop all comments in the comments section below.
Share with the social media buttons below.