Education
KNUST Basic School Closed Down Until Further Notice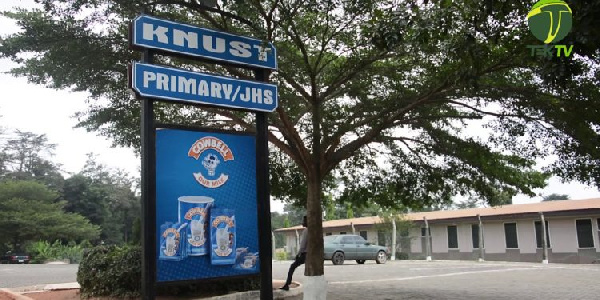 KNUST Basic School Closed Down Until Further Notice
The management of Kwame Nkrumah University of Science and Technology (KNUST) is hereby informing all parents and the general public about their decision to close down the KNUST basic school.
This was made known in a letter from the office of the Registrar of Kwame Nkrumah University of Science and Technology (KNUST) on which was released some few days ago. The letter was signed by the Deputy Registrar (Academic Affairs), Mrs. Margaret Dzisi.
According to the letter, the students are unattended to since some teachers precisely the University Senior Staffs are still on strike.
Read on: GES : Stop Using French Teachers to Teach other Subjects
She stated, "FOLLOWING the declaration of industrial action by the Senior Staff Association – Universities of Ghana (ISSA-UoG), I write on behalf of the Registrar to inform the University Community and the general public that the KNUST Basic is being closed down, effective Thursday 21st July, 2022, until further notice".
The strike action has been in full force since May 18th and has now been extended to cover hospitals and clinics, basic schools and the Anatomy departments.
Their demands leading to the strike action are Tier 2 pension arrears, award of market premium, non-basic allowance and the finalisation of negotiation of condition of service.
He again asked for the strict adherence and co-operation to this letter. "The co-operation of all in this regard is solicited".
According the Ghanaweb, "no pupil was seen at the premises of the school as all the classrooms were closed and locked including the gate to the school premises".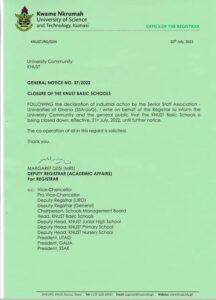 Though some parents are not happy with the turn of events, who can they blame?
This year saw the the education sector sending strong messages to the government of Ghana that they cannot be taking for a ride anymore. On the other side, the students are the sufferers and this always brings the big question, can you blame the teacher or his employer?
Already, other basic schools are in school and this is likely to affect the future of the students.
Recommended
Contemporary Issues In Education: Policies, Reforms, Programmes etc.
Salaries and Conditions of Service of Teachers: A Historical Note
GES Aptitude Test Questions And Answers For ADI (Trial Questions)
You can join any of our platforms below to be updated anytime we publish our articles.
<<< CLICK HERE TO JOIN OUR WHATSAPP GROUP >>>
<<< CLICK HERE TO JOIN STUDENTS FORUM ON WHATSAPP >>>
<<< CLICK HERE TO JOIN OUR TEACHERS PORTAL GH ON TELEGRAM >>>
Please click on the buttons below to share our post.