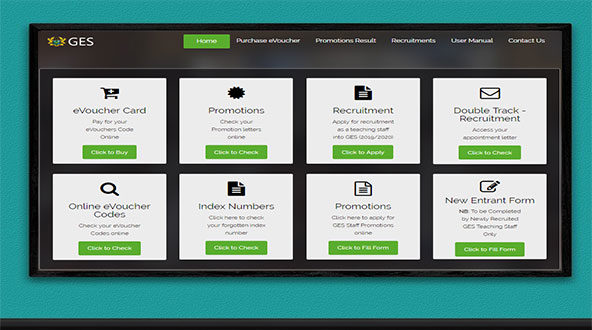 Massive Recruitment of Teachers With Diploma in Basic Education
The Management of Ghana Education Service is requesting applications from qualified trained teachers who have Diploma in Basic Education Certificate to be considered for employment.
After several people kept asking us what the current news about GES recruitment is, we are sure to provide you with a good news.
There is a GES diploma graduate recruitment ongoing. This was made known to the public in a letter sighted by icreategh team, signed by Angela Frimpomaa Nkansah (MS.), AG. Director, HRMD announcing the availability of space for the recruitment of teachers with Diploma in Basic Education in Ghana.
Since there is a freeze on employment due to the current challenges the economy is facing, this is an opportunity for qualified and interested teachers with the Diploma in Basic Education (DBE) to apply.
ALSO CHECK: 
New 2023 GES Academic Calendar for Basic Schools
Revised 2023 GES Academic Calendar For SHS/SHTS
Job Purpose for teachers with Diploma in Basic Education (DBE)
To start with, to facilitate learning using 21st century technology.
Again, continuously improve learner's ability to research using new technologies.
Also, teach highly motivated learners, cater for learners with different learning abilities and help them achieve excellent academic results
Furthermore, attend relevant and continuous professional development sessions.
More so, use a variety of assessment tools and tasks and to accurately assess levels of learners' competency.
Finally, any other responsibility that would be assigned to you by your Head of Institution.
Applicants who wish to apply should meet the following criteria:
Firstly, the applicant must have completed Diploma in Basic Education Programme and has no outstanding examination or referrals.
Secondly, must have completed the mandatory National Service.
Thirdly, must have passed the National Teacher Licensure Examination.
Lastly, must be ready to work wherever his/her services would be needed.
If you are a qualified and passionate teacher looking for an opportunity to train the Ghanaian child to contribute to nation-building in the future, access the GES official website (www.gespromotions.gov.gh) or GES recruitment portal from 10th February 2023 to 24th February 2023.
Note: only application forms accessed on the website(www.gespromotions.gov.gh) would be accepted. Follow Judiciously, the steps on the portal for teachers recruitment so you do not make mistakes in the application processes. The recruitment of teachers in Ghana for this opportunity is to be treated with all urgency.
Please remember to share this with all colleagues to apply with the social media buttons below.
Join the conversation below by leaving a comment in the comment section below.
APPLY HERE
READ ALSO: GNPC 2023 Local Scholarship for Undergraduates and Postgraduates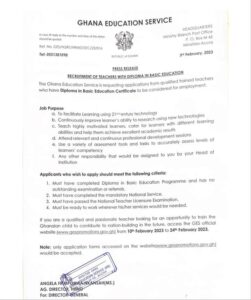 current news about GES recruitment, GES diploma graduate recruitment, GES recruitment portal, diploma in basic education in ghana, when will GES posting for university graduate with basic education release, portal for teachers recruitment, recruitment of teachers in Ghana, clearances form for graduate teacher application