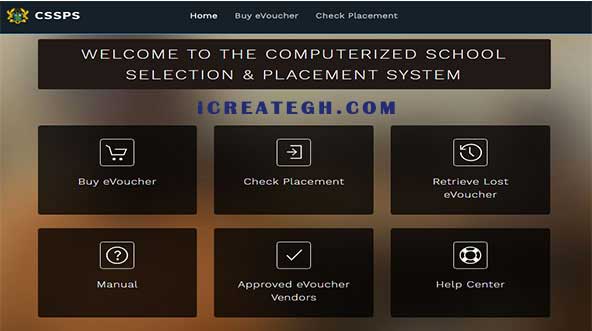 Private BECE Candidates School Selection in Progress (BECE School Selection)
It is part of Ghana Education Service (GES) and Ghana Government's initiative to ensure that any child of school going age is not deprived the opportunity to get access to quality education.
In line with this, a private BECE process was instituted to allow individuals that could not take the general exam or those who did not excel to register and rewrite the examination.
Candidates who took the private exam are given the opportunity to select preferred schools of their choice by following the school selection guidelines for candidates who wrote the general exam.
They can also watch and be guided by the video aired on various Television (TV) networks and played on radio stations across the country. This video can be accessed on the free SHS website.
Timeline Schedule
The timeline for the private candidates is similar to that of the general examination candidates which commenced from the 31st of October, 2022.
Development
Statistics indicated that quite a huge number of the private candidates are yet to make their school selection.
The statistics revealed that the number of candidates that have completed their selection process is 318 and about 826 outstanding candidates.
This is mainly attributed to lack of awareness of candidates about the ongoing process even though enough awareness campaign has been created.
Plea by GES
GES is hereby informing the general public to bring this message to all private candidates to complete their school selection process as soon as possible (ASAP)
The candidates should visit www.waecinternetsolution.org
Use their Index Number and Date of Birth as Login and Password respectively and complete the process before the deadline.
To conclude, the Ministry assures the public that it is commitment to ensuring a smooth and effective school selection and placement process.
The school selection video for guideline can be accessed at www.freeshs.net
CLICK ON THE BUTTON BELOW TO SELECT YOUR SCHOOLS.
CLICK HERE TO SELECT SCHOOLS
RECOMMENDED
You can join any of our platforms below to be updated anytime we publish new articles.
<<< CLICK HERE TO JOIN OUR WHATSAPP GROUP >>>
<<< CLICK HERE TO JOIN TEACHERS PORTAL GH (GRP2) ON WHATSAPP >>>
<<< CLICK HERE TO JOIN OUR TEACHERS PORTAL GH ON TELEGRAM >>>
bece school selection 2022, bece school selection 2023, shs school selection list 2022, shs school selection list 2023, private bece 2022,private bece 2022, private bece school selection 2021, private bece school selection 2022, private bece school selection 2023, 2022 school selection register, school selection form, 4th choice schools in ghana, school bece results