Education
PURC Educated Salem SHS students on the Efficient use of Energy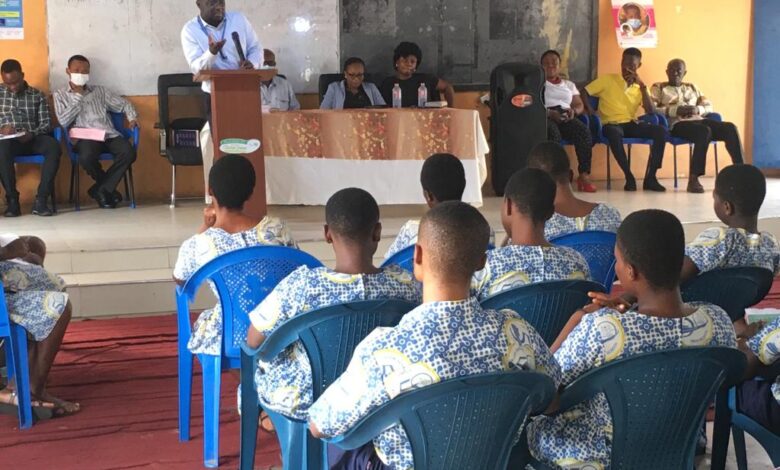 The PURC educated Salem SHS students on the best practices to engage in so as to conserve water and electricity in their various homes. The Public Utility Regulatory Commission (PURC) is responsible for the regulating of utility services in electricity and water sectors.
The program saw Madam Dora Nyantekyie, Gifty Bruce Nelson, Pamela Brown and Emmanuel Asinor all taken turns to educate the students on ways they can avoid energy wastage and its conservation.
Salem Senior High School is well established and one of the old private schools that is located in the heart of Accra. It is located at Osu and has amazing students and teachers that make academic a priority over anything. They have a track record of seeing 100% of their students passing WASSCE with very good grades. It is not a surprise when both teachers and students asked brilliant questions which called for responses that clarifies a lot of questions you may want to ask the Executives from PURC.
Lets dive straight into the few conservative tips as mentioned by the facilitators.
Conservative tips (Electricity)
Ironing just one or two clothes consumes a lot of power since the iron has heating element and which takes time to heat and when heated, you can use it to iron close to 10 clothes before it starts heating again and starts consuming.
All electrical appliances including sockets must be put off when not in use.
Frequently opening of fridges also drains a lot of power.
Turn off TVs when not in use.
Fridges must be turn off at night
Use timers to regulate your AC
Read on: Trial Core ICT Questions
Conservative tips (Water)
Report burst pipes
Replace all dilapidated equipment's (toilets, laundry machines and dishwashers)
Repair leaky faucets and toilets to avoid wasting hundreds of gallons of water each week.
Collect and store rain water
Wash plates in bowls instead of using running water.
Repair all leakages
Water your lawns early in the morning or in the evening
Questions asked and answers
When fridges are turn off at night, it may cause stored foods to go bad.
What can one do when frequent power outages destroy his or her appliances?
How safe is it when pipes are laid in gutters to consumers homes?
How often are pipelines change?
What causes delay in meter acquisition and the delay in billing new meters
ECG fails to bring bills but are quick in disconnecting customers.
Also Read on: NTC Literacy Exams Past Question
Answers given
When your fridges are off and not open, air doesn't enter hence leaves the food in the same state until it is open. Since you will be sleeping at that time, offing the fridge saves energy until the next morning.
Blame yourself if you don't have protective gadgets at home, but if you do and your gadgets are destroy because of the frequent power outages, you will be paid or the items will be replaced after you made a complain which will be verified by their engineers.
Ghana Water Company Limited (GWCL) will never lay pipes in gutters hence, when you identify one, report it to the service providers for it to be resolved. When the pipes burst, sometimes when it is been fixed, dirt may enter the pipes and flow to our homes but water moving from GWCL are safe for our consumption.
Pipelines are only changed when it is very old or completely destroyed but not frequently.
Meter acquisition was very difficult because they weren't available at the time. You can now apply for new meters and it will be installed.
Technical challenges are major challenges that cause this hence, customers must take the pain to visit the offices for their bills when it delays.
PURC ambassadors was established in Salem SHS to help regulate the use of energy and water in the school.
You can WhatsApp (PURC) office on: 0540126201 to make complains and enquiries.
Call the Headmaster of Salem SHS on 0261477778 if you want your ward to get enroll into their school for all levels.
Recommended:
Please if you are on any of our WhatsApp platforms, do not join this one.
Join our Discussion Forum below.
<<< CLICK HERE TO JOIN OUR WHATSAPP GROUP >>>
<<< CLICK HERE TO JOIN STUDENTS FORUM ON WHATSAPP >>>
<<< CLICK HERE TO JOIN OUR TEACHERS PORTAL GH ON TELEGRAM >>>
Please don't forget to share this post. Click on the WhatsApp, Facebook, Twitter, Instagram button below to share the post.