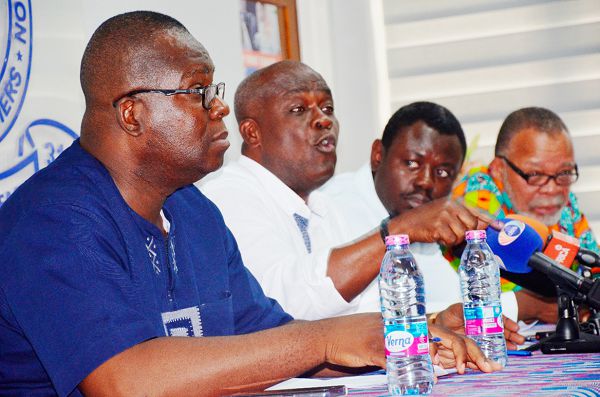 Teacher Unions Call for Termination of DR. Eric Nkansah's Appointment.
Dr. Eric Nkansah received his appointment as Acting Director-General of GES effective 19th October 2022.
Current development shows teachers are not pleased with this appointment.
This is evident when the teacher unions called on government to terminate the appointment and gave a 4th November 2022 deadline.
Collectively, the leadership of the teacher unions held a press conference on the deadline date to outline their next line of action.
Recommended:
GNAT Calls for Members' Promotion, Upgrade and Laptops
Updates on 2022 National Standardized Test (NST) for Basic 2 (P2) and Basic 4
GES category of Schools in Ghana – 2022
The three (3) unions are made up of:
The Ghana National Association of Teachers (GNAT)
National Association of Graduate Teachers (NAGRAT)
Coalition of Concerned Teachers – Ghana (CCT-Gh).
Grievance
In the press release, the spokesperson render their disagreement in the appointment of a Banker to head the Ghana Education Service (GES) instead of an Educationist.
According to the teacher union leadership, this is a manifestation of lack of confidence in Teachers to manage their own affairs.
It is also a disregard to established Scheme of Service and progression within GES.
Mr. Anthony Boateng
The unions also rendered their displeasure on the one-year contract extension for retired Deputy Director-General of GES Mr. Anthony Boateng.
They sounded a note of caution that they will vehemently and vigorously resist any attempt to bring Mr. Anthony Boateng back into the system.
Strike Action
In the press conference, the union stated that they have been compelled under the current circumstance to disclose their intention.
And this is to embark on an industrial action of withdrawal of services in all pre-tertiary education institutions.
They are informing the general public that starting from 4th November 2022, they will withdraw their services in all pre-tertiary education institutions.
RECOMMENDED
You can join any of our platforms below to be updated anytime we publish new articles.
<<< CLICK HERE TO JOIN OUR WHATSAPP GROUP >>>
<<< CLICK HERE TO JOIN TEACHERS PORTAL GH (GRP2) ON WHATSAPP >>>
<<< CLICK HERE TO JOIN OUR TEACHERS PORTAL GH ON TELEGRAM >>>
Related Searches
Teacher Unions Declare Strike 2021, Teacher Unions Declare Strike 2022,