General news
Bibiani – Fire razes down Anglican JHS, all certs burnt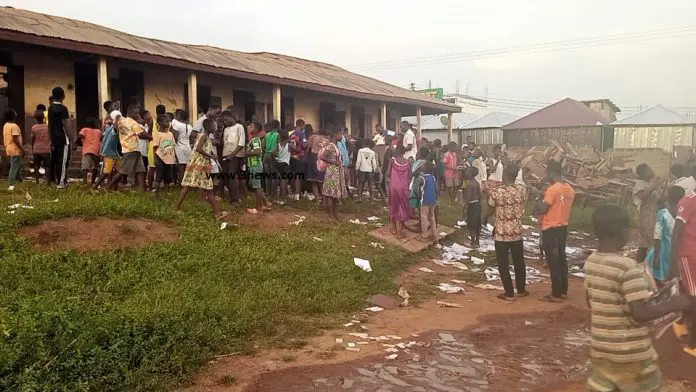 Bibiani – Fire razes down Anglican JHS, all certs burnt
Sad news as Bibiani Anglican Junior High School as five of their classroom block has been razed down by Fire.
As sighted on 3news portal, it is reported that the staff common room as well as classrooms has been massively affected by the fire. The fire is believed to have started after school hours on Thursday, May 26.
Nana Fynn Connect FM's Western North Correspondent reported that properties running into millions of Ghana cedis have been destroyed.
An interview granted by the Headmaster of the school, Arthur Nyame, by the host of Connect FM's Omanbapa morning show Nhiraba Paa Kwesi Simpson revealed that all certificates of students who have completed their final examinations have been burnt.
He further stated that "Books, computers, flat screen television, photocopy machines, and many others have been destroyed. The most worrying aspect of the situation is that all certificates of students who have completed school cannot be found. There is no way I can get students to study in such a building. It looks very dangerous. We are currently preparing final year students for examinations so we will need a temporary location to teach them".
According to Isabella Nsiah, a teacher in the school, she received a distress call about the situation and called the Ghana National Fire Service to assist but was told their vehicle was faulty.
She again said, "I received a phone call that the school was on fire so the best I could do at the time was to call the Fire Service. I called them and I was told their vehicle was not working but they will liaise with other fire stations for response,"
According to her, the school is currently relying on the Ghana Education Service (GES) before teaching and learning can continue.
She again added that "At the moment, the staff common room is gone. The entire building is collapsing. All documents and gadgets have been burnt to ashes but for injuries, I do not know of any at the moment. We are currently relying on the Ghana Education Service to get us a place for teaching and learning to continue as soon as possible,"
Source: 3news.com
Recommended:
Please if you are on any of our WhatsApp platforms, do not join this one.
Join our Discussion Forum below.
<<< CLICK HERE TO JOIN OUR WHATSAPP GROUP >>>
<<< CLICK HERE TO JOIN STUDENTS FORUM ON WHATSAPP >>>
<<< CLICK HERE TO JOIN OUR TEACHERS PORTAL GH ON TELEGRAM >>>
Please don't forget to share this post. Click on the WhatsApp, Facebook, Twitter, Instagram button below to share the post.