General news
Trending
Green Ghana Day: Kpando MCE to Query Assembly Staffs Who Did Not Plant Trees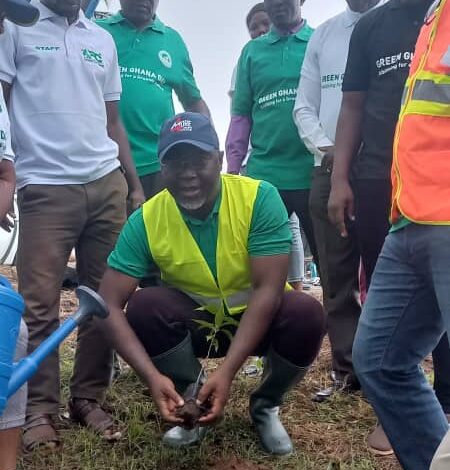 Green Ghana Day: Kpando MCE to Query Assembly Staffs Who Did Not Plant Trees
Green Ghana Day 2022 edition was launched in Kpando Municipality. The Municipal Chief Executive, Hon. Geoffrey Kojo Badasu on Friday 10th June, 2022, launched the 2022 edition of "Green Ghana Day", in the Kpando Municipality with so much commitment to the afforestation and reforestation programme.
Present at the commemorative event was the Kpando Municipal Director, Forestry Commission, Mr. David Asiedu Sarfo, Mr. Hope, Director of Agric Kpando and Mr. Steven Akpedonu Senyo Kpando Municipal Director Zoomlion Ghana Ltd.
Speaking at the event held at the Forecourt of Kpando Municipal Assembly, the Municipal Chief Executive stated that "The Green Ghana initiative seeks to;
Create enhanced national awareness on the necessity for collective action towards restoration of degraded landscape in the country.
Inculcate in the youths the value of planting and nurturing trees and their associated benefits."
He continued by saying, "The beneficiary communities or areas are;
The Residency close
Bishop Herman College Road
Kpando Senior High School stretch of the road
St. Patrick Hospital, (All in the Kpando Municipality)".
Kpando Municipal Assembly has planted 6000 different species of trees across the municipality out of some 10,000 seedlings that were nursed for planting on Green Ghana Day, which happened on Friday in the area.
The Municipal Chief Executive for the area, Joe Badasu said the remaining 40,000 will be planted on a five acre land in Gbefi, a suburb of Kpando.
However, the MCE said punishment will be meted on the Head of Departments of the Assembly who did not participated in the tree planting exercise.
This is a national assignment and all heads of department (of the Assembly) were expected to be part of it and for some very strange reasons decided to absent themselves. Those heads of department have to explain themselves on Monday, why they absent themselves without reasons as he spoke to Akpini Radio 96.7 after the exercise was held on Friday.
The MCE gave a brief overview of the Green Ghana project and also gave thanks to all the participants in the tree planting activity at the tail end of the programme.
Zoomlion, Prison Service Personnel's and some individuals in the Kpando Municipality joined the exercise and planted trees along the shoulder's of the roads, schools, residential areas and the Assembly premises.
The exercise was unsuccessful in some parts of the region due to heavy rainfall.
RECOMMENDED
Click the link below to Join our Discussion Forum for regular news updates.
Don't forget to share with the social media buttons below.