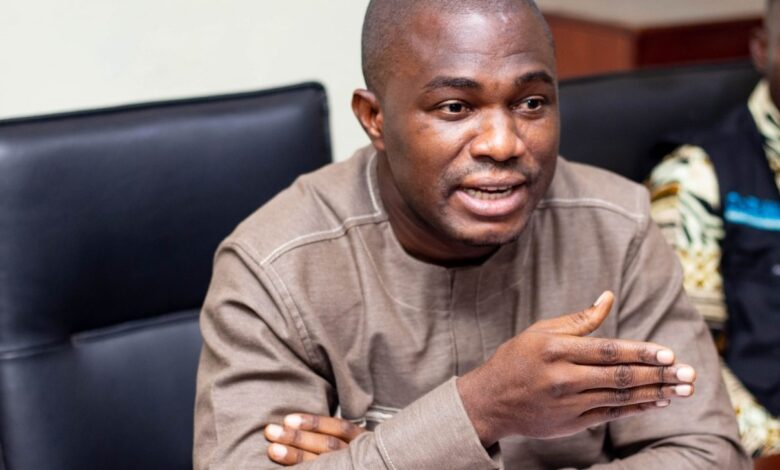 Dr. Eric Nkansah Appointed Acting Director-General of GES
Dr Eric Nkansah, the current Director in charge of Tertiary Education at the Ministry of Education, has been appointed as the acting Director-General of the Ghana Education Service (GES).
In a letter dated October 19, 2022, signed by the Secretary to the President, Nana Bediatuo Asante and addressed to Dr Nkansah, stated "Pursuant to Section 19 (1), (2) (a) and (b) of the Pre-Tertiary Education Act, 2020 (Act 1049), I am pleased to inform you that the President has appointed you to act as the Director-General of the Ghana Education Service (the "Service") pending receipt of the constitutionally required advice of the governing Council of the Service, given in consultation with the Public Services Commission."
The letter directed that his appointment takes effect from October 19, 2022.
Dr. Eric Nkansah takes over from Prof Kwasi Opoku-Amankwa whose secondment contract has been terminated to see him return to the Kwame Nkrumah University of Science and Technology (KNUST).
Career Profile
Over the last 15 years, Dr Nkansah has been been working in the field of Finance and Education.
The new acting Director-General, Dr. Nkansah, the 41-year-old Nkansah joined the Ministry of Education in April 2021 on secondment from the Kumasi Technical University, where he served as a Senior Lecturer for about 8 years.
In the same period, he served as an Adjunct Lecturer at the Graduate School of KNUST from February 2013.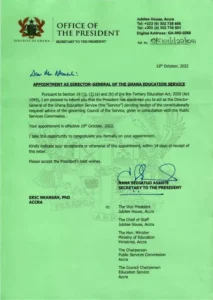 RECOMMENDED
You can join any of our platforms below to be updated anytime we publish new articles.
<<< CLICK HERE TO JOIN OUR WHATSAPP GROUP >>>
<<< CLICK HERE TO JOIN TEACHERS PORTAL GH (GRP2) ON WHATSAPP >>>
<<< CLICK HERE TO JOIN OUR TEACHERS PORTAL GH ON TELEGRAM >>>