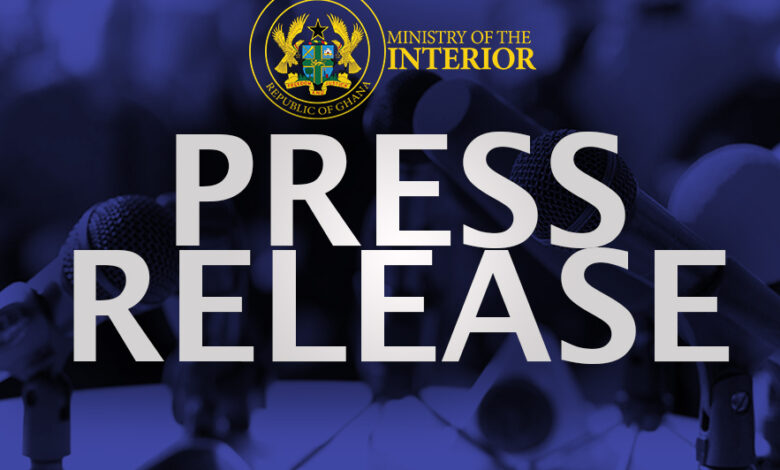 Monday Declared As Public Holiday
In a Press Release today Tuesday the 18th of April, 2023, by the Minister for Interior Ambrose Dery (MP), Monday has been declared as a Statutory Public Holiday and must be observed as such.
"The general public is hereby notified that Saturday, 22nd April, 2023 marks Eid-ul-Fitr which is a Statutory Public Holiday" as stated in the press release.
The holiday as explained, is as a result of Eid-ul-Fitr (annual celebration by Muslims) which happens to fall on a Saturday the 22nd of April hence the need to declare Monday 24th April a Public Holiday.
RECOMMENDED
"However, in view of the fact that 22nd April, 2023 falls on a Saturday, His Excellency, the President of the Republic of Ghana, has by Executive Instrument (E.I), in accordance with Section 2 of the Public Holidays and Commemorative Days Act, (Act 601) declared Monday, 24th April, 2023 as an additional Public Holiday and should be observed as such throughout the country."
RECOMMENDED
You can join any of our platforms below to be updated anytime we publish new articles.
<<< CLICK HERE TO JOIN OUR WHATSAPP GROUP >>>
<<< CLICK HERE TO JOIN TEACHERS PORTAL GH (GRP3) ON WHATSAPP >>>
<<< CLICK HERE TO JOIN OUR TEACHERS PORTAL GH ON TELEGRAM >>>
Related Searches
is tomorrow a holiday in ghana 2022, public holidays in ghana 2022, is tomorrow a holiday ghana, is tuesday a holiday in ghana, public holidays in ghana 2022 pdf, is 27th december 2022 a public holiday in ghana, is monday a holiday in ghana, public holidays in ghana 2023 pdf