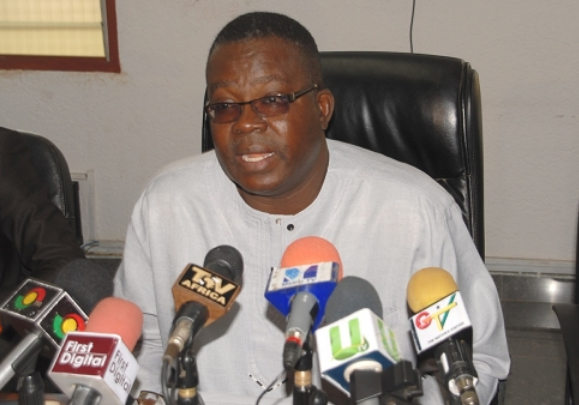 The woes at the GES doesn't look like ending anytime soon as the National Association of Graduate Teachers (NAGRAT) rejects new GES Boss, Dr. Eric Nkansah as the new Director-General. 
With an impressive career in banking, the association thinks he deserves a chance in a sector close to his field of study and not in education. They registered their displeasure and questioned why a someone who has no background in teaching be made the Director-General of the GES.
The NAGRAT President, Mr. Angel Carbonou  in a press conference in Accra on Thursday October 20, mentioned that teachers were in high expectants of a person who has background in education and would bring his expertise to the fore.
He expressed disappointment saying the appointment indicates that education in Ghana lacks qualified teaching professionals to take charge of educational affairs. He also indicated how annoyed and surprised they are by the appointment of the new GES Boss, Dr. Nkansah.
The NAGRAT President said, "What annoyed and surprised all of us was that a new Director General has been appointed to the Ghana Education Service.
"The authority to appoint Director General of GES is the President of the land. Unfortunately, contrary to what the teacher unions indicated that, we will want a Director General who is a professional teacher, who has passed through the mill, who can bring his knowledge, skills and influence to bear on the activities of teachers and non-teachers in the GES.
"Contrary to that, the gentlemen who was appointed yesterday is not a teacher, he is banking officer, who was a special assistant in the office of the Minister and has been appointed as the Director-General of the GES. We are not happy with this development, it is as of we don't have professionals and well educated people who have gone through the mill in education in this country to run education."
"I take this opportunity to congratulate you formally on your appointment. Kindly indicate your acceptance or otherwise of this appointment within 14 days of receipt of this letter, " a statement signed by the Executive Secretary to the President, Nana Bediatuo Asante said.
"Accordingly, the President of the Republic has instructed that your secondment be terminated forthwith, and you are directed to return to your position at the Kwame Nkrumah University of Science and Technology."
Credit: 3news.com
RECOMMENDED
You can join any of our platforms below to be updated anytime we publish new articles.
<<< CLICK HERE TO JOIN OUR WHATSAPP GROUP >>>
<<< CLICK HERE TO JOIN TEACHERS PORTAL GH (GRP2) ON WHATSAPP >>>
<<< CLICK HERE TO JOIN OUR TEACHERS PORTAL GH ON TELEGRAM >>>