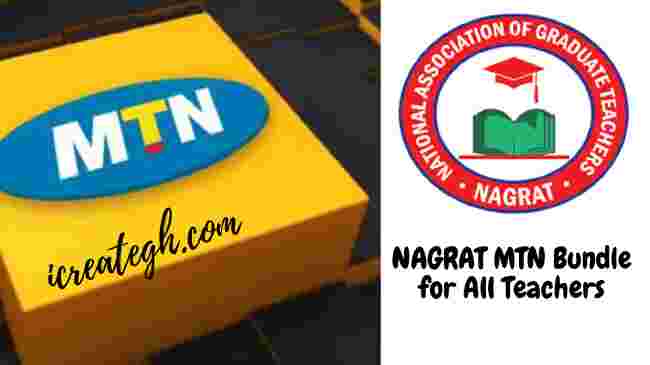 NAGRAT MTN DATA BUNDLE
Since the introduction of the NAGRAT MTN Data bundle by the National Association of Graduate Teachers to support teachers especially in this difficult moment, many teachers (members and non-members of NAGRAT) can not hide their joy about the development. This is as a result of the improvement and flexibility the NAGRAT Data bundle comes with. Unlike the sister Association that is fixated on only the subscription of only one number, NAGRAT has made their package very accessible and includes a number of relatives and love ones of the beneficiary teacher. Good News right?
Again, the bundle allows All teachers to enroll and enjoy the package.
With the sweet melodies of this beautiful song, there are some few challenges that NAGRAT is working on assiduously to ensure that the Ghanaian teacher get the best of the offer and some relief to be able to spend less on data to help him or her carry out research works without any difficulties.
Understandably, some teachers complained about the delay in disbursement of the Teachers bundle. This may vary from every individual but NAGRAT is working on it.
Check the some of the questions asked by teachers and the appropriate answers provided below;
Frequently Asked Questions
1. When will I get the Data after payment?
The data delivery time frame is between one to twenty-four hours, excluding weekends and holidays. If you have not received the data by the timeline, please contact the provided number. Thank you.
2. Why does it take so long to get the Data?
Our ability to distribute data effectively relies on the services of external providers. However, some of these providers are unavailable on weekends and holidays, which could disrupt the flow of our services.
3. Is the Bundle for everyone?
The subscription is intended for members of NAGRAT, although members of other teacher unions may also subscribe if they choose to do so.
4. Can my family also enjoy the Bundle?
Yes. But limited number of family members.
5. Can I buy multiple times in a month for myself and family?
Yes.
6. Do I need to register to benefit from the service"?
Registration is not required. Our records are only updated upon your first attempt to use the system.
7. Can I resell the Bundle?
The resale of this bundle is strictly prohibited.
Leave your Comments and Questions in the Comment Section below. Do not forget to Share this article with All Teachers.
For Any form of Assistance, kindly Contact 0555552404. You can only Text or WhatsApp this number as you may be completed ignored should you call.
NOTE: Do not pay money to any individual or websites that may disguise themselves to be working with NAGRAT expect for the only links and Short Codes shared by NAGRAT. For the avoidance of doubt, contact any NAGRAT executive to confirm links before making payments.
Disclaimer:
icreategh is not a spokesperson for NAGRAT neither are we representing them in any way. We do not take money from teachers to buy data bundle for them but only share Reliable information on All Education issues. Report to us should anyone use our brand to fraud you. Thank you.
RECOMMENDED:
You can join any of our platforms below to be updated anytime we publish new articles.
<<< CLICK HERE TO JOIN OUR WHATSAPP GROUP >>>
<<< CLICK HERE TO JOIN TEACHERS PORTAL GH (GRP3) ON WHATSAPP >>>
<<< CLICK HERE TO JOIN OUR TEACHERS PORTAL GH ON TELEGRAM >>>