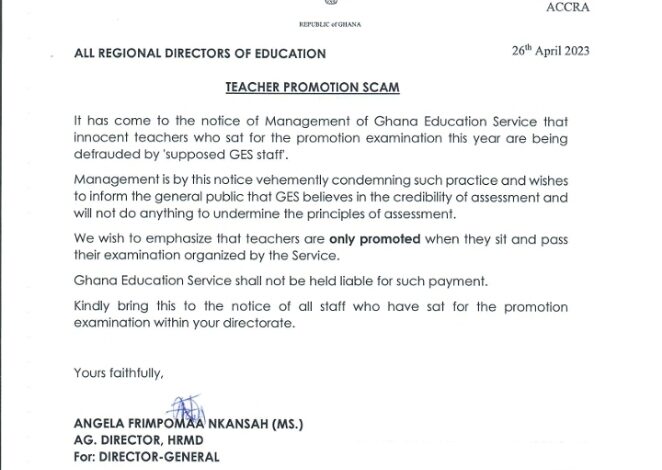 Teachers Promotion Scam Alert
The Ghanaian professional teacher that is qualify for promotion as at now, must sit for promotion exams which has replaced the interview system. As many teachers were happy for the new changes to aid them get to their new ranks, this seems to be a mirage for some teachers as some recalcitrant individuals have resorted to scamming innocent teachers.
This was revealed in a letter signed by Angela Frimpomaa Nkansah (Ms.) AG. Director, HRMD cautioning teachers from staying away from such people.
She is quoted saying, "It has come to the notice of Management of Ghana Education Service that innocent teacher who sat for the promotion examination this year are being defrauded by supposed GES staff."
READ ON:
Again, the Ghana Education Service maintains that as giants and pacesetters of assessment, and as a body that ensures that learners undertake assessments guided by the laid down principles of assessment devoid of cheating and the credibility they have earned over the years, they will not in anyway encourage teachers to engage in such act and are condemning it to the fullest.
The Ghana Education made this statement stressing on their condemnation of the act saying,  "Management is by this notice vehemently condemning such practice and wishes to inform the general public that GES believe in the credibility of assessment and will not do anything to undermine the principles of assessment".
The promotion exams is supposed to assess the Ghanaian teacher as the GES believes, it must be earned by proving that one deserves it but not the other way round. That is, paying ones way around to be promoted since that is alien to the profession.
Therefore, if any teacher engages the services of this unscrupulous individuals trying to drag the reliability and validity of the exams into the mud, you do so at your own risk as the GES promotion exams is the only legitimate way to getting promoted after passing the Aptitude Test organized by the Ghana Education Service.
Moreso, you carry your own cross when you pay to anyone to facilitate your promotion. "Ghana Education Service shall not be held liable for such payment" as warned by the GES.
"We wish to emphasize that teachers are only promoted when they sit and pass their examination organized by the Service".
Again, to help innocent teachers that sat for the promotion exams from this fraudsters, you are encouraged to alert all teachers to save their salaries for better things.
"Kindly bring this to the notice of all staff who have sat for the promotion examination within your directorate" as instructed by the GES.
What do you make of this call? Leave your comment in the comment section below.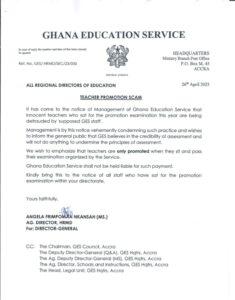 RECOMMENDED:
You can join any of our platforms below to be updated anytime we publish new articles.
<<< CLICK HERE TO JOIN OUR WHATSAPP GROUP >>>
<<< CLICK HERE TO JOIN TEACHERS PORTAL GH (GRP3) ON WHATSAPP >>>
<<< CLICK HERE TO JOIN OUR TEACHERS PORTAL GH ON TELEGRAM >>>
ges promotion index number, ges aptitude test questions and answers pdf, ges promotion questions and answers, latest news on ges teachers promotion today, ges non teaching staff promotion questions and answers, teachers promotion exam questions, ges promotion letters 2022, promotion examination, Is GES promotion exams out?, How do I check my promotion on GES?, Is GES promotion portal opened?, What is the pass mark for GES promotion exams?, Teachers Promotion Scam Alert 2023, Teachers Promotion Scam Alert