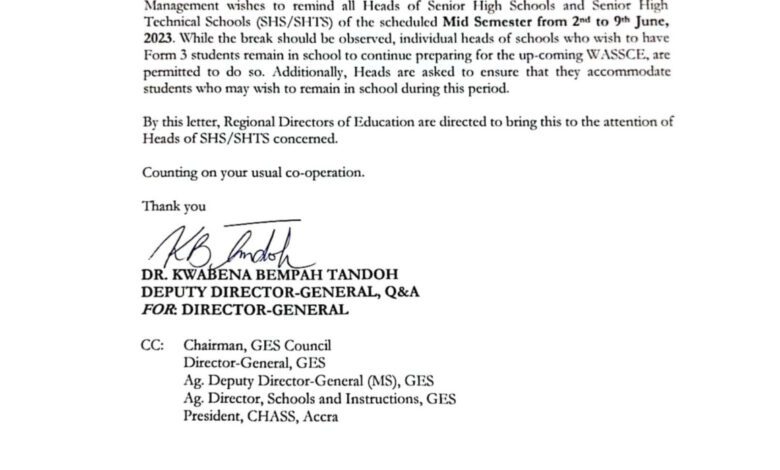 GES Notice on Mid Semester break for SHS/SHTS
The Ghana Education Service in a letter dated 24th May, 2023, Signed by Dr. Kwabena Bempah Tandoh, Deputy Director-General, Q&A directs Heads of Senior High Schools (SHS) and Senior High and Technical Schools (SHTS) to give students in forms two (2) and three (3) seven days Mid Semester break.
Since form three's (3) have few months to write their Final Exams (WASSCE), Heads of schools are advised to allow any student that wish to still stay in school as the short break lasts to do so.
Below is the full letter:
"Management of the Ghana Education Service (GES) sends its complements to teaching and non-teaching staff of the Service for their dedication to our students."
"Management wishes to remind all Heads of Senior High Schools and Senior High Technical Schools (SHS/SHTS) of the scheduled Mid Semester from 2nd to 9th June, 2023. While the break should be observed, individual heads of schools who wish to have form 3 students remain in school to continue preparing for the up-coming WASSCE, are permitted to do so. Additionally, Heads are asked to ensure that they accommodate students who may wish to remain in school during this period."
"By this letter, Regional Directors of Education are directed to bring this to the attention of Heads of SHS/SHTS concerned."
RECOMMENDED
You can join any of our platforms below to be updated anytime we publish new articles.
<<< CLICK HERE TO JOIN OUR WHATSAPP GROUP >>>
<<< CLICK HERE TO JOIN TEACHERS PORTAL GH (GRP3) ON WHATSAPP >>>
<<< CLICK HERE TO JOIN OUR TEACHERS PORTAL GH ON TELEGRAM >>>
Related Searches
when will 2022/2023 academic year start in ghana, ges academic calendar for 2022/2023, 2022 academic calendar for basic schools in ghana, ges academic calendar for 2023, when will 2022 academic year start for basic schools, vacation date for basic schools in ghana, when will 2023/2024 academic year start in ghana, ges academic calendar for 2023/2024, 2023 academic calendar for basic schools in ghana, ges academic calendar for 2023, when will 2023 academic year start for basic schools, What month will school year 2022 2023 start?, What is the vacation date for basic schools in Ghana?, What is the reopening date for basic schools in Ghana?, Which date will Shs vacate 2022? Mid Semester break for SHS/SHTS 2023, Mid Semester break for SHS/SHTS 2024