General news
Islamic SHS English Teacher seeks Justice Over Alleged Police Brutality on Him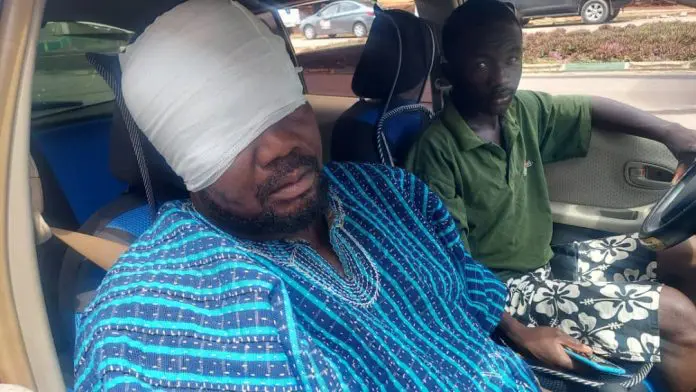 Islamic SHS English Teacher is seeking for justice over allegation of police brutality meted out to him.
Kofi Antwi an English teacher in the Islamic SHS received the beaten of his life by the police when he commented that the students action was justifiable. This did not go down well with the Police officers hence, decided to assault the teacher. This happened on Monday June 13th, 2022, during the disturbances in the school.
He said he was hit many times in the head with the gun and this resulted in his inability to see after the assault.
Covered with bandage, which covered all his eyes and half of the head, the teacher questioned why authorities have to always wait for students to demonstrate over erection of speed ramps.
Angrily, he said, "Somebody shouldn't have to be on the street before things are done right. I'm not happy the demonstration came on but the students were justified".
Read on: GES to tackle "chew, pour, pass, and forget" occurrence in Ghana's education
According to the  Islamic SHS English Teacher, Mr Antwi, the police officers thought he led the students to demonstrate so they poured the anger on him as they manhandled him.
"I was coming to teach because I had class in the morning. So when I got at the entrance, I realised the students are on the street. I inquired and was told they're demonstrating to demand for speed ramps due to the incessant knockdown of colleagues. So I stood there and said they have a genuine concern. That's all I said and the police claimed I incited them to pour on the streets. They (police) used the butt of gun to hit me severally before dragging me to the police station"
He claimed to be having battling with severe headache, pains in both eyes and body pains after he has been discharged.
Check this out:
Click the link below to Join our Discussion Forum for regular news updates.
Don't forget to share with the social media buttons below.