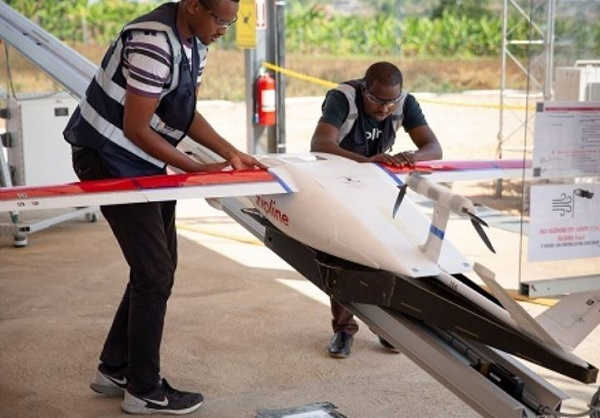 Jumia to use Zipline in delivering products to Africa homes
The world is going digital so is Africa as Jumia is partnered by Zipline to deliver products in a blink to their customers. Zipline is noted to be involved in delivery services in Africa. Notably among them is the collaboration with the Ghana Health Service in the delivery of Health tools and equipments.
One of the gaints in e-commerce, Jumia decided to work with Zipline to provide instant, on-demand and automated delivery to customers where ever they are. This means, customers can now irrespective of their locations, can access products from Jumia instantly, and location is no longer a barrier.
As mentioned on Graphic.com, The program has already been launched couple of months in Ghana on a pilot program and testing.
As mention by the EVP Jumia, Group COO, Apoorva Kumar, customers would no longer have to wait days to receive products they so desire to use same day. "Using the latest instant logistics technology will allow Jumia to offer our consumers on-demand delivery of the products they need – instantly. Whether they're ordering electronics, fashion, health, and beauty, or other categories, Zipline's instant logistics system will provide fast and convenient access. This will support Jumia's commitment to sustainability and innovation and provide much-needed access to rural and remote areas where conventional delivery services have challenges".
Read Also: NCA releases punitive actions for non-registered SIM cards
The efficiency of the system was tested in Ghana and it never failed as it took an hour to deliver products to Jumia hubs across 85km from Zipline operational hub in Omenako (Ghana).
According to Daniel Marfo, SVP – Zipline Africa, "Zipline is pleased to partner with Jumia to use instant logistics to improve the lives of customers across Africa. This collaboration will increase access to goods for customers and help small and medium-sized businesses grow. Zipline's safe and efficient instant logistics system will make shopping on Jumia even more convenient, sustainable and accessible for its customers".
Also Read: 'Frustrated' Unmarried Children of US Citizens beg US Embassy in Accra to fast track visa process
The good news to Africans is that there are plans to extend similar services to Cote d'Ivoire and Nigeria. Sooner, the entire Africa will be enrolled.
It won't be long before reality sets on you as you no longer have to wait long hours or days to get hold of that your precious package. The safety and the timely delivery of products is just a good news to Africans. Jumia to use Zipline in delivering products in Africa, is believe to be timely and a boost to Africa's technology advancement.
Recommended: 
Join our discussion forum below by clicking on the link. Drop all comments in the comments section below.
Share with the social media buttons below.